Yesterday, Today And Tomorow
November 25th, 2013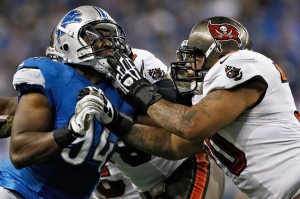 OK, Greg Schiano has three wins this season. Most coaches would be working their real estate agents by now. Schiano's situation isn't normal. He had an infection in the locker room and it wasn't just MRSA.
Notice all the drama with the start of the season? Then franchise quarterback leaky Rip Van Freeman missed the team photo and then was stripped of his captaincy title — by his own teammates.
When the Bucs went to New England for controlled practices, it got worse for Freeman when he was overshadowed by the play of Pats failure Tim Tebow.
The Bucs' locker room was so unnerved the team called one of the dreaded players-only meetings.
Fast forward to the season opener and Freeman's head was aloof on the very first series of the Jets game. If Joe didn't know better, he would have sworn Freeman just got out of bed.
Once Schiano rid himself of Freeman, the Bucs slowly came together as a team. And lo and behold, the Bucs have won three straight (should have been four) and knocked off a division-leader in their own crib. This, despite Detroit having tons of weapons while the Bucs defense was ravaged by injuries and a suspension thrown in for good measure.
Now, it's the Lions who are calling players-only meetings.
My, how this season has come full circle. Only thing that would complete the circle is if Detroit quarterback Matt Stafford was sighted at a Walmart buying alarm clocks.
Playoffs
This is heresy to suggest, but the Bucs are not mathematically eliminated from the playoffs. Yes, Joe is sober typing this. The Bucs would have to have all sorts of help but if they ran the table to finish 8-8, they would have tiebreakers over San Francisco, St. Louis and Detroit. It helps that the NFC East is putrid this season.
Draft
If the draft was held today, the Bucs would have the No. 5 overall pick. Has Mike Glennon convinced you? Or should the Bucs draft Jake Matthews or Taylor Lewan? Or perhaps trade down for Sammy Watkins?
Joe can't believe he just wrote in consecutive paragraphs that the Bucs have meager playoff hopes heading into December and they could also have a top-five pick in the draft. That's just how wacky this season is.
Pass plays
Joe is quibbling here because Mike Glennon played so well, but in the first half, many third down calls had receivers running routes short of the first down markers. Joe cannot understand the rationale, or perhaps, as some suggest, Bucs offensive coordinator Mike Sullivan is trying to hide Glennon? If you believe this theory, his many run calls on second-and-long would reinforce this conspiracy theory.
Running such short routes when you need long gains may help your quarterback, but you are also hanging your receivers out to dry. And you are likely putting the defense back on the field quickly. Again.
Team Glazer Speaks
Did Greg Schiano get a vote of confidence after the game from Bucs co-chairman Joel Glazer? Glazer seemed pleased with the team's turnaround. That will need to continue for Schiano to return in 2014.
Were Glazer's words a good sign or a bad sign?
Rutgers Day
It was Rutgers Day at Ford Field as Tim Wright and Tiquan Underwood played at a Pro Bowl level. It was Underwood that hauled in a bomb from Glennon — something Joe had been waiting on for weeks — that put the Bucs over the top.
After being pulled off his couch, Underwood has 13 catches at more than 20 yards a pop and three touchdowns in seven games. It is still a mystery how he was cut in favor of Dropsie Ogletree.
Rian Lindell Better Still Be in Detroit
Joe has had it with this unclutch Bucs place kicker. Kickers are very much like running backs: There are so many who can be pulled off the street and be effective. Lindell should be on the street — at a frigid Detroit Greyhound bus stop.
Lindell cost the Bucs a win over the Jets just as much as Lavonte David did. And Lindell did his best to ensure Drew Brees drove the Saints down for a game-winning field goal.
Then there was yesterday when Lindell had two — TWO! — chances to help ice the game and whiffed both times. Granted, he was painted into a corner by an inexcusable sack taken by Glennon. Still, Lindell had plenty of distance on that shot. Since the Bucs still have a prayer of a playoff berth (see above), why keep this guy Lindell on the roster when he's about as dependable as a low-rent bookie's odds.
Get rid of this guy! Bucs rock star general manager Mark Dominik should be calling in kickers for workouts tomorrow as you are reading this.
Schiano Off Hot Seat?
The Bucs are on a 3-1 run and that one loss came in overtime on the road against the best team in the NFC. Has Schiano's seat gone from roasting to simmer? Of it is even warm?
What will it take for Schiano to rest comfortably in his seat for 2014?
Glennon's Numbers
In this last two games, Glennon is perfect when throwing 15 yards or more downfield. Perfect! Read that again. Perfect!
Would leaky Rip Van Freeman give his left nad to be 50 percent in passes 15 yards or more downfield? Probably.
And Glennon is perfect.
Also, Glennon is the first quarterback in NFL history to throw a touchdown in each of his first eight starts.
Lions Celebrated Early Christmas
Joe cannot remember when a team had five turnovers (four picks and a fumble) and a blocked punt and still nearly won. So as giddy as Joe and other Bucs fans are today, let's be honest: The knockout punch is not (yet) there.
Part of the reason the Lions still nearly pulled out a win despite playing Santa Claus was Lindell gagging in the second half.
Schiano and Glennon
Look out now, you Freemanites, but it appears Bucs commander Greg Schiano is developing a pretty decent NFL quarterback.
As Joe has written before, Schiano didn't wreck Freeman. Freeman wrecked Freeman.
NFL Thoughts:
Saints: Not sure who is going to stop Drew Brees but if the Saints have to play Seattle on the road, Joe is putting his cash on the Seahawks.
Crows: Suddenly the Crows look like a new team, slapping around the hapless Jets. Now this sets up a …
Steelers: The Men of Steel are playing good football of late. For Pittsburgh, beating the Brownies on the road is a good win. And to think some frauds believe the Steelers were shopping Ben Roethlisberger! Oh, on Thanksgiving Night, the resurgent Steelers – still in the hunt for a playoff berth – face the Crows. Joe's looking forward to that.
Packers: Joe just may have to believe Aaron Rodgers is the MVP of the NFL. The Packers were one of the better teams in the NFL and without him, they have totally collapsed and after tying the Vikings – where leaky Rip Van Freeman was inactive (can you imagine?) – the Packers are in a desperate mode to save their playoff lives. Good thing the Bears and Lions are keeping the Pack in the hunt as Rodgers recuperates.
Jags: They won. On the road. Against the Texans — another team circling the drain.
Chargers: Now if, as some Bucs fans believe, the Bucs, rather than drafting a quarterback in the first round (coughJohnnyFootballcough) the Bucs should try to acquire a veteran quarterback, Philip Rivers is a guy Joe would watch. He was strong in leading his team from behind to beat the Chiefs on the road. He's also durable and has won playoff games.
Stinking Panthers: Here is where the rubber meets the road for the Bucs. Their next opponent is the Stinking Panthers in Carolina. If the Bucs pull off an upset here, then Joe suggests Schiano is off the proverbial hot seat. The Stinking Panthers didn't have much of a day, struggling to beat the Dolphins.
Rams: The Rams blasted the Bears. The Rams! This team is truly Jekyll and Hyde, playing with a bunch of scrubs because so many stars are out on the IR.
Cardinals: Who saw this buzzsaw coming, where they whipped the Colts? Guess the injuries are mounting on offense for the Colts. With the Cardinals rising like a Phoenix, the NFC West is tough again.
Titans: What's to write about a couple of teams fighting for worst in the AFC? Pretty sure the Titans will be drafting a quarterback in May.
Cowboys: What, Tony Romo didn't choke? Isn't that what he is supposed to do? Joe always thought the NFC East was an overrated division and this year it is putrid, which makes Joe smile.
Patriots: Joe didn't watch one second of this game last night. Joe is so sick of the Belicheats and Joe never liked Peyton Manning. Thus, this game held zero interest for Joe. None.
* Lastly, isn't it time for the networks to scrap the live in-game updates to show a scoring highlight of another game? People that are interested in other games either have the Red Zone Channel on their secondary TV or are monitoring the other game on a laptop/iPad/smartphone. The only thing these updates do is interrupt the game you are trying to watch. This tactic is so 1982.
Non-NFL Thoughts
1) So now that the long arm of the law might lock up Jameis Winston and Johnny Football suddenly looked mortal Saturday, people who follow the Heisman Trophy watch seriously think Alabama quarterback A.J. McCarron could be a Heisman frontrunner. Well, let's hold on. If you compare McCarron's numbers to that quarterback conference factory, the Big Ten, McCarron would be fifth in passing yards among Big Ten quarterbacks.
Sorry A.J. Just be content with rings and Miss Alabama.
2) So Florida State was giving 58 points to Idaho and still covered? OK, time to brag. Who collected cash on that wager?
3) Never in Joe's life would he ever have dreamed – ever! – that a low-rent school like Georgia Southern would come into Gainesville, not complete one pass – not one! – and still beat the mighty Gators. That simply was unfathomable to Joe. Georgia Southern beating Vandy or Kentucky would surprise Joe. But Florida? If this didn't make Tim Tebow curse and want to sin with a woman, nothing will.
Now Joe understands how Florida State fans felt when USF beat them in their own crib.
4) Joe still thinks Florida is going to scare the hell out of Florida State this week. Really. Rivalry game.
5) Baylor? I mean, come on! You couldn't put forth a better effort than that with your Star Wars-like offense. That was worse than an Oregon fraudulent choke. Turrible.
6) If Auburn beats Bama, and wins the SEC title game, then Joe is predicting right here and now that Florida State will be playing Auburn for the national title. That is, if Winston isn't pinched.
7) Speaking of the fraudulent Ducks, they lost to Arizona Saturday. Go have fun in the Sun Bowl in lovely El Paso.
8) If you don't like UCLA bone-crushing linebacker/physical running back Myles Jack, you don't like football.
9) LSU defensive coordinator John Chavis is the only guy that has been able to figure out how to stop Johnny Football. Not Nick Saban. Not Bob Stoops. Not Dan Mullen. Not Will Muschamp. Maybe Chavis will be working in the NFL soon?
10) It appears Muschamp is safe, and he should be for at least one more year. But if the Gators decide to move on, Joe would like to see the Bull Gators try to outbid T. Boone Pickens for Mike Gundy.