Who Were They Talking About?
November 26th, 2013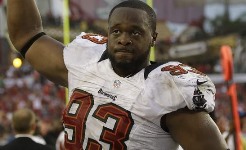 Joe finds all the veiled comments about a quarterback from the past quite interesting. Bucs players seem more comfortable letting them out of their mouths now that he is no longer infecting the Bucs locker room.
Sunday, Tiquan Underwood's comments about Bucs quarterback Mike Glennon were hardly veiled back-handed slaps at former Bucs franchise quarterback, leaky Rip Van Freeman.
Joe won't bother setting up quotes Bucs stud defenisve tackle Gerald McCoy shared from offensive linemen about what a fine game MG8 had in the win over the Lions.
"He's one of the most poised rookies I've seen at quarterback," GMC said. "He doesn't get rattled much. There were times yesterday where he got hit and he could've just went down but he just – because guys were just bouncing off of him and he was just extending the play. There were times where I talked to some of the offensive lineman yesterday and I said, 'I think that was a bad time for him to take a sack,' and they [said] 'Would you rather him take the sack or make an impulse throw or make a bad throw and turn the ball over?' I was like, 'I guess that makes sense.' He's smart with his decisions and he studies constantly and I think he's starting to understand the game a lot more."
Impulsive throws?
Now those guys couldn't have been talking about a former Bucs quarterback who, at the very thought of angry footsteps his way, would mentally fold like an accordion, would they? A guy who had one of the worst records against teams with winning records in recent memory? Hhhmmm?