Video Of How Football Has Changed
November 21st, 2013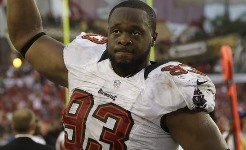 In this way cool video from NFL Network of Gerald McCoy mic'ed up for NFL Films, there is clear evidence of how babying quarterbacks has changed the NFL game, and Joe does not believe it's for the better, unless you are into fantasy football or video games or just hate defense.
Obviously, GMC had three sacks last week against the Dixie Chicks. He should have had a fourth. GMC was in a scrum to get Dixie Chicks quarterback Matty Ice. Both GMC and Adrian Clayborn thought Ryan had gotten rid of the ball. GMC even had his hands on Matty Ice and let him go, only to realize too late that Matty Ice had the ball, and then threw a pass.
GMC, on the sidelines, was beside himself, telling all who would listen, "I thought he threw the ball otherwise I would have body-slammed him! Not even 99 [Warren Sapp] had four sacks," GMC said.
Imagine if this was a close game and Clayborn and GMC let Matty Ice go, for fear of getting flagged, fined or suspended, and Matty Ice tosses a touchdown pass for a win?