The Mystery Of Da'Quan Bowers
November 8th, 2013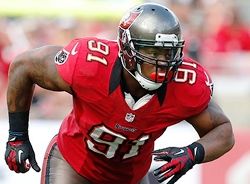 Unless the Bucs pull off a wild miracle that will stun the NFL world, which, frankly, Joe cannot fathom, the Bucs will post a losing record. They could challenge for the worst record in NFL history, much less worst record for 2013.
There are all sorts of mysteries as to what went wrong, but one big puzzles has been the virtual disappearance of defensive end Da'Quan Bowers.
If you listened to the Bucs, they let last year's sack leader and run-stuffer Michael Bennett walk away for a very cheap price, in part, because they felt Bowers was ready to stip in for Bennett, if not pick up where he left off.
Instead, Bowers cannot crack the starting lineup. He's a situational player and even then, it's as if he's not on the field. Bucs defensive coordinator Bill Sheridan talked about where Bowers stands with the Bucs defensive plans yesterday.
"We always talk about trying to get him in more," Sheridan said. "I know he plays a lot of third down for us and unless you get some long drives, unless you're pre-scripted when guys are going to play certain series, unless you're having a six, eight, or 10 play drive – and hopefully you don't have a lot of those – you're not really thinking about subbing within the drives. Sometimes unless you script, 'Hey we're going to play this guy every third series or fourth series,' you may think about doing it but you get to halftime and the guy hasn't played other than maybe his sub third down pass rush. We wouldn't make any decisions – and I'm not putting words in your mouth – with kind of the mentality 'What the heck, we've got nothing to lose, let's just put him out there.' 

"We treat every game as the most important game of the year and it is, and this one coming up is for us. We talk all the time about getting him in more because he is a talented guy and he's actually improved for us."
Frankly, this is simply empty rhetoric to Joe. So the Bucs' coaches want "to get him in more?" Then do it!
What, you have to get written permission from Bryan Glazer, notarized, in the middle of the game in order to put him in? You are the defensive coordinator, Mr. Sheridan! If you want to get him in more, you put him in, it's real simple, unless you are trying to hide the fact that either you cannot get the most out of him, or he has regressed so terribly that you are covering for him.
Which is it?
Bucs commander Greg Schiano has remarked in recent weeks how much Bowers has progressed since training camp, yet Bowers still languishes on the bench.
There are a lot of reasons why the Bucs have played terribly this season. Easily, one of the black marks on the season is why the coaching staff either colossally misjudged Bowers' ability to take over for Bennett, or they simply cannot coach him up.
Maybe, both.