The Elusive First Win
November 1st, 2013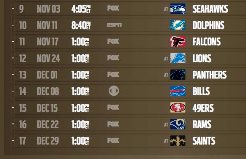 It is now November. Time to think of turkey, liquor, buying Christmas lights (gggrrr) and like a squirrel gathering nuts in the fall, soaking in as much football as humanly possible to pass us through the sports winter, when northeast types try to ram the non-basketball association down our throats until July.
Dear, God. Joe's stomach turns just at the thought (maybe that's why Joe has become a very casual fan of NASCAR in recent years because that is as far away from the non-basketball association and golf as one can get).
This season, November is also a month in which Bucs fans begin sweating whether the Pewter Pirates can win a game, and avoid a Detroit Lions 0-16 season.
Will Brinson of CBS Sports is beginning to wonder if the Bucs matching that mark is a done deal, so he Twittered this week.
@WillBrinson: The Buccaneers are going to win a game this year. Right?
Then, Brinson attached a copy of the remaining Bucs schedule, which Joe has included in the upper-right hand corner of this post.
Let's read it from you, Bucs loyalists. Which team will be the first to succumb to Bucs commander Greg Schiano and his Buccaneer Men this season?