"Sapp Likes To Target Certain People"
November 7th, 2013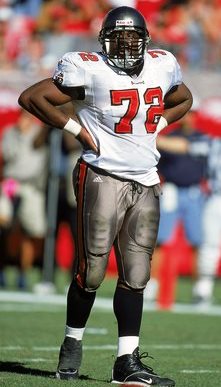 Yesterday, former Bucs wider receiver Keyshawn Johnson rocked Bucs fans with an allegation that Bucs icon Warren Sapp wasn't much different than Dolphins outcast Richie Incognito. Johnson, in an explosive radio interview, claimed Sapp was a bully and recounted an episode where he hounded former Bucs defensive lineman Chidi Ahanotu so mercilessly that Ahanotu challenged Sapp to a throw-down in the middle of the locker room in front of the entire Bucs' roster, and Sapp just sat down.
Calling the same radio show, something called "Bucher and Towny" on KGMZ-FM 95.7 in San Francisco, Ahanotu told of his experiences with Sapp from his point of view.
"Sapp likes to target certain people," Ahanotu said. "And he was really bullying everybody in that facility, actually. That's what he turned into. . . . I think fame and money kind of changes people, and he's a prime example of that. . . . Six years of dealing with that, and finally he said the wrong thing . . . talking about my dad, and that's when I said, 'OK, that's it, man.' I grabbed my helmet and I was about to beat his head in.

"I am from Oakland. I don't take that kind of stuff. We went toe-to-toe every day. It wasn't like I was bullied. Bullying is when someone picks on a weaker guy and that was not the case with me."
As it turned out, Ahanotu shortly thereafter as the incident happened in December, Ahanotu was no longer with the Bucs, and went to the Rams as a free agent.
As Joe stated yesterday, there is really no way to confirm these incidents but Joe does know Ahanotu and Sapp were about as close to enemies as teammates who play on the defensive line could be. Joe has heard eyebrow-raising stories about the two having run-ins both in the locker room, and away from One Buc Palace when their paths crossed in the Tampa night.
It's sad that these stories are popping up just hours before Sapp is to receiver the ultimate honor of playing for the Bucs: having his number retired at halftime of a Monday Night Football game.