Penn Goes Vertical
November 12th, 2013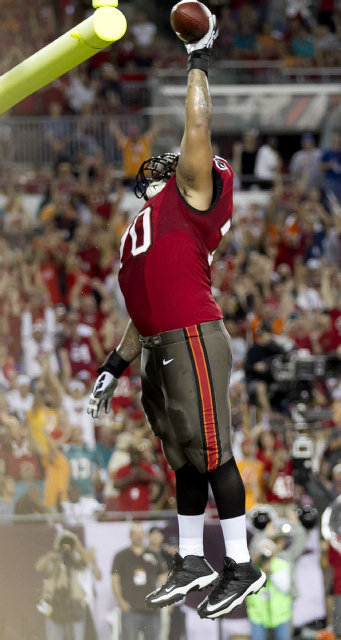 Sometimes pictures need no words, but Joe will add a few. The NFL crossbar is 10 feet high. Donald Penn's got some hops. Not bad for a guy who goes 330 and change wearing football gear.
It was Penn's second career touchdown. And yes, the dunk was planned.
"Y'all know I love basketball, man. The first time I [scored a touchdown] I didn't know how to act. I lost my composure. So this time I had something planned," Penn said.  "And then I saluted to the troops, with this being Veterans Day. They do a lot for us and they really go under-appreciated."
Penn explained that he lobbied hard for years for the Bucs to return his end zone route to their play list. Penn said he even demanded coaches watch film of his 2010 end zone romp in San Francisco.