JumboTron Scared Greg Schiano
November 13th, 2013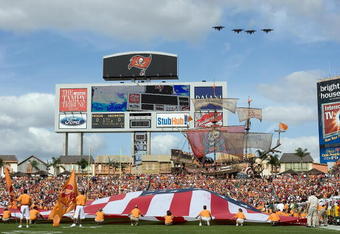 Donald Penn scoring on a touchdown pass from Mike Glennon was cool because you don't often see an offensive tackle catch a pass.
The touchdown against the Dolphins on Monday night almost didn't happen. Penn, who already caught a TDpass in his career, nearly didn't get the chance thanks to the JumboTron at the Stadium on Dale Mabry Highway.
The pass play was in the Bucs' game plan and they were ready to call it, but Bucs commander Greg Schiano noticed something that spooked him, reports eye-RAH! Kaufman of The Tampa Tribune.
"We'd already called the play when Mike goes down,'' Schiano said Tuesday. "During that stoppage, I knew we were going to recognize Donald because his 100th (consecutive) start came on the road. I was great with that, but then (quarterbacks coach) John McNulty says, 'They're playing it on the board.' "

As a video of of Penn's previous scoring catch against the 49ers was displayed for all to see in front of a sold-out crowd at Raymond James Stadium — and any attentive Dolphins — Bucs coaches couldn't believe their eyes.

"The conversation on the headset, you wouldn't believe it,'' Schiano said. "You can't make this stuff up. But cooler minds prevailed. One of our coaches said we can't let the JumboTron make our decisions.''
Good thing Schiano was caught up in a moment of common sense. With coaches spending hours and hours and hours and days and days and days pouring over film, and with the Dolphins having 10 days of prep work since they last played on a Thursday night, Joe just cannot imagine a coaching staff seeing a three-year-old highlight on a JumboTron, and then canceling the play.
That would just be being paranoid, no other easy way of looking at it.