"Growing Up"
November 13th, 2013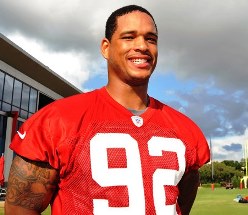 Lost in the jubilation that embattled defensive end Da'Quan Bowers not only got his foot on the field Monday night but also recorded his first half-sack of the season was the fact that rookie defensive lineman Will Gholston got the other half of Bowers' sack, which set the tone on the Bucs' final defensive stop to win the game.
Gholston was another one of those third-day draft picks last spring by Bucs rock star general manager Mark Dominik, two of which have played major roles this season in starting defensive tackle Akeem Spence and running back Mike James.
Gholston had a chequered career at Michigan State, at times showing brilliance, at times being invisible. Often this season Gholston has found himself on the inactive list for games but that could be changing listening to Bucs commander Greg Schiano yesterday.
"Well, in the week we made a decision that there was certain things we felt – you know, [defensive lineman William] Gholston's growing up, and he's getting more and more prepared, and we said, 'OK, this is going to be your package,'" Schiano said. "So I thought he handled what we asked him to do well. And some of it was a sacrificial role, too. Some of it he was just taking [Miami center Mike] Pouncey out of the mix, but he did what we asked him to do well."
The Bucs need all the help they can get putting quarterbacks on the ground. If Gholston is finally becoming the man some thought him to be, then that's even better for the Bucs.
It just gets Joe chuckling and shaking his head at times. Joe doesn't know of many teams that for years have spent so much time and effort in drafting, coaching (?) and acquiring talent for the defensive line and are still so starved for any defensive lineman to just breathe on an opposing quarterback.