GMC: Schiano Never Lost Players
November 20th, 2013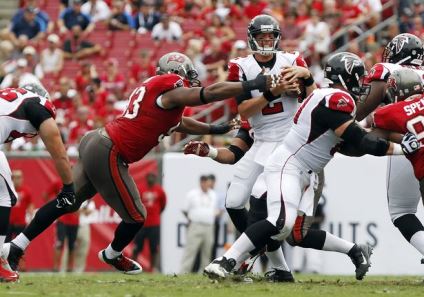 Joe knows many Bucs fans, desperate to see Bucs commander Greg Schiano leave the area, had their calendars circled for when they believed the Bucs would start to fold internally, and pull a Bucs 2011 stunt where they quit on Raheem Morris.
It didn't happen, and instead, the Bucs have looked like a totally different team in the past three weeks.
Bucs stud defensive tackle mocked at people expecting the Bucs to quit.
Last night, McCoy appeared on "Late Hits," co-hosted by Alex Marvez and Bill Polian, heard exclusively on SiriusXM NFL Radio, GMC noted that people who claimed Bucs players were about ready to shovel dirt in Schiano's face simply don't know Schiano or the Bucs locker room.
@Geraldini93: "Everyone is entitled to their opinion but Coach Schiano never lost this locker room. No one paid attention to those rumors"
Anyone who can see a game and isn't walking with a white cane knows the Bucs never quit on Schiano. They played hard. That is part of the reason the team has — at least in November — turned the corner.
The question that now remains, has the team turned the corner enough to ensure a return for Schiano for the 2014 season?