Gerald McCoy Not Interested In Past
November 20th, 2013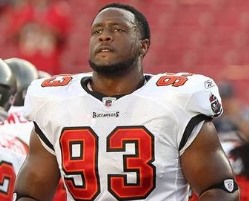 There has been a lot of hot air hollered over sports radio, typed on the Internet, voiced on TV and bled with ink on 19th Century news delivery services (newspapers) about the Bucs and their pass rush (or lack thereof).
Akeem Spence told Joe last week that the defensive line as a unit had lobbied coaches all year to, as Hall of Famer Warren Sapp would say, let the dogs hunt.
Recently, it was learned Bucs stud defensive tackle Gerald McCoy put his foot down and all but told his coaches enough was enough with pretty stunting and that coaches finally listening to players is why the Bucs have had a virtual explosion of sacks the past two games (both wins, incidentally).
GMC attempted to dodge this issue earlier in the week, documents the Custodian of Canton, eye-RAH! Kaufman of The Tampa Tribune.
"You knew it was there, we had the ability to do it, there was just something missing,'' McCoy said. "I never could really point that out, I just knew we weren't finishing games. We had a lot of opportunities. I guess you can say, 'Where was that earlier in the year?' But you don't want to look in the past, look to the future.''

Tampa Bay has 22 sacks for the season as they head to Detroit to face Matt Stafford, who has been dropped only 12 times in 419 pass attempts.

"Yeah, we've got to work as a unit,'' said McCoy. "I didn't want to change anything I was doing, just keep trusting that the guys next to me are going to do their job and I'll just keep doing what I'm doing. And it all came together [Sunday].''
There's no need to change what you are doing! The Bucs are finally — finally! — getting results. Why in the world would you change that and go back to what wasn't working for lo' these many months?
Just how desperate if not rightly paranoid for their jobs were Bucs defensive coaches to finally give in to the hell-raising of Sapp, Booger McFarland, Steve White, the Bucs players, hell, Pope Francis himself, to finally cave?
Meanwhile, GMC's loud critics and haters have been shamed into seclusion and silenced. Why? Be men and speak for yourselves!