ESPN Hatchet Job On Schiano
November 2nd, 2013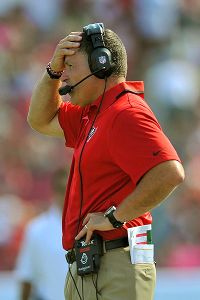 ESPN put one of its top feature writers, Elizabeth Merrill, on the trail of what's wrong with the New Schiano Order. And she unearthed the typical, predictable stuff; practice is too demanding, Greg Schiano's rules are childish, some players reject the head coach's ways amongst themselves.
But what Joe couldn't have predicted is that Merrill's two featured on-the-record sources are Derrick Roberson and E.J. Wilson, two nobodies who haven't been with the Bucs since the summer of 2012. What a joke of an effort by Merrill, who had the massive resources of ESPN behind her to flush out current, insightful sources.
In a laughingstock moment, Merrill wants us to believe Wilson, who was best known as a Buccaneer for his women-hating Tweets in the wee hours during training camp, actually quit playing professional party because Schiano was a too tough. Yeah, right.
"Everyone thinks he started losing the team recently," former Bucs defensive end E.J. Wilson said. "He started losing the team around the middle of training camp last year. It never really came out, but there were a lot of guys who were not happy being there. A lot of the veteran guys were like, 'We're going to give it a chance,' but it kind of felt like they weren't really being treated like men.

"It was almost like being a freshman in college all over again. You were nervous of being made an example of for breaking one small rule."

Wilson was coming back from a torn Achilles in the summer of 2012. He was hurting one day during camp, so a trainer pulled him from a workout. Wilson said Schiano spotted him on an exercise bike and insisted he practice or Schiano would find somebody else who would.

Wilson was eventually cut from the team in 2012 and said he's finished playing football, in part, because of his experiences with Schiano. There was a weeding-out process that offseason, an effort to cast out the players who clearly weren't Schiano guys.
Joe buys all the anti-Schiano player feelings during 2012 Bucs training camp and offseason, but the team was 6-4 and playing great football. Whatever Schiano did from the day he took over to roughly Thanksgiving of 2012 worked just fine, better than nearly everyone expected.
The real issue with Schiano is his coaching ability at the NFL level, the Xs and Os and elite decision-making and gameday leadership necessary to be successful. That was a major X-factor Joe wrote about numerous times before this season started. He hasn't proven he can do it. That can't be argued.
If ESPN wants to do its readers a service, it should dive into that instead of recycling tired year-and-a-half-old nonsense.