Darrelle Revis Helps Bucs' WRs
November 16th, 2013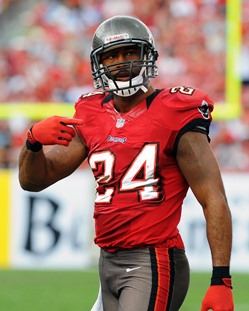 Some would suggest that stud Pro Bowl receiver Vincent Jackson has slipped this year. Sure, he has dropped too many balls. Joe is sure Jackson would admit that (if anyone has a [free] link that charts dropped balls, Joe would be indebted to you. Joe has searched far and wide for such a site and he strikes out each time).
Now Jackson hasn't been flashing much of late and Joe attributes that to being double- if not triple-teamed. You think opponents lay awake at night worrying about Skye Dawson? So with only one legitimate threat at wide receiver, opponents are going to lock down Jackson and Joe expects the Dixie Chicks to do the same tomorrow.
Jackson, however, believes he and Bucs receivers are getting help from cornerback Darrelle Revis, who has both tested lesser receivers, and pushed Jackson to be better.
"Absolutely. We knew that coming into training camp. It's a lot of fun for us to work together. I've played him a few times in my career. You like that, you like the challenge, you like playing guys that are considered some of the best at their position and it brings the best out of you," Jackson said. "All we're going to do is continue to elevate each other's game."
Granted, Revis isn't quite yet 100 percent from offseason knee surgery, but he's about there he admits. Revis also is a part-time coach with the secondary. The Bucs' young cornerbacks just rave about how much they have learned from him.
Maybe Revis is why quarterback Mike Glennon is allergic to throwing deep balls? Revis has him so spooked in practice that it carries over to games?