Climaxing Too Soon
November 5th, 2013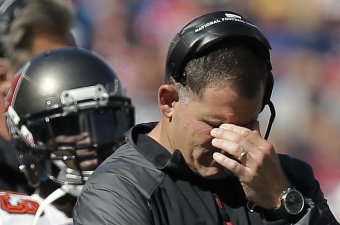 There are certain puzzles in life that stump Joe. Riddles such as why people contaminate otherwise delicious carrot cake with nuts? Or, what's the purpose of caffeine-free, sugar-free soda? Or, why torment innocents with brown M&Ms?
Another questions for the ages is, "why do the Bucs vanish in the first half?" This mystery is offered up by Pat Yasinskas of ESPN.com in his look back at the choke in Seattle.
The second-half woes continue: The Bucs scored three points in the second half against Seattle. That's not surprising. They've been collapsing in the second half all season. Think back to the losses to the Saints and Jets. If this team wasn't so bad in the second half, it could be in playoff contention.
Playoffs? Well, Joe's not getting ahead of himself, but Joe can see where Yasinskas is coming from. The Bucs could have a .500 record if Bucs commander Greg Schiano didn't put his offense in mothballs in the second half.
The Bucs have scored a grand total of three touchdowns in the second half through eight games, and one was by Mason Foster. THREE! Joe thinks Mike Sullivan is one of the nicest guys, but Sullivan should be thanking his lucky stars he is working for patient owners like Team Glazer. Had Sullivan, for example, worked for Jerry Jones or Dan Snyder and gone through half a season like this he'd be interviewing with Allstate or State Farm about now.
Why does Joe suspect it's not just Sullivan's philosophy that is grinding the Bucs offense to a screeching halt in each game's final 30 minutes of play?