Bucs Making NFL History
November 25th, 2013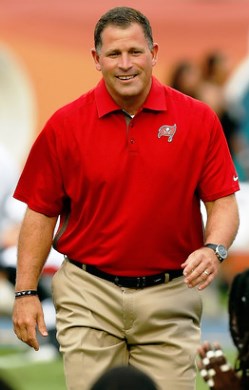 Yes, the Bucs are doing things under commander Greg Schiano few teams have done in the NFL. And that's a good thing, not a bad thing, sort of.
Consider what the numbers geeks at BSPN have unearthed about the Bucs in the wake of beating the Lions on the road yesterday for their third straight win.
@ESPNStatsInfo: Via @eliassports Buccaneers are 3rd team in NFL history to win 3 straight after starting 0-8 or worse (1978 Cardinals, 1986 Colts)
A link between the three teams? All three were coached by guys largely — accurately or inaccurately — considered "college coaches."
The 1978 Cardinals, after starting 0-8, finished 6-10 and were coached by one of the greatest college coaches in history, Bud Wilkinson. The 1986 Colts, after going 0-8 under the pathetic Rod Dowhower, were turned around when the Colts hired Ron Meyer, largely known for building (cheating) Southern Methodist before he pulled a Pete Carroll and left for New England before the NCAA posse arrived.
Both coaches, after turning around a season, were met with different fates. Wilkinson flamed out the next year, crossed swords with the notoriously inept Bill Bidwill over who to start at quarterback, and was fired before the end of the season.
Meyer turned the Colts into a respectable team and hung around for a few years, actually guiding the Colts to the playoffs once.