Zach Mettenberger And The Bucs
October 7th, 2013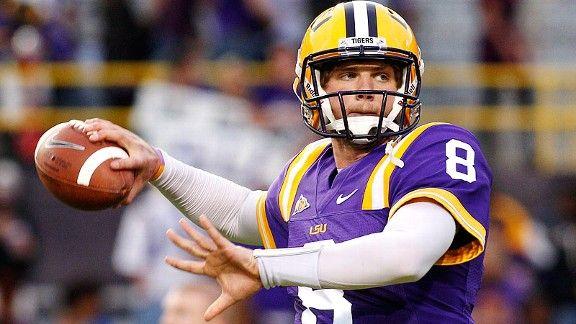 Joe knows some Bucs fans are deep in the sad denial that the 2013 season is viable. They think that if the Bucs just pull together, they, too, could be a wild card team.
Joe sincerely wishes these same fans can rid themselves of whatever demons possess them. This season is done. Joe can't find the statistics he read recently, but starting a season 0-4 is a deathknell for playoff hopes.
Now there is a very real likelihood the Bucs could be drafting a quarterback in the first round. But Joe's hunch today is the Bucs would try to trade for a veteran quarterback first. There are too many good veterans on this team to saddle with a quarterback who likely will be going through growing pains for a couple of seasons.
The proprietor and brainchild of TheBigLead.com, Joe's good friend Jason McIntyre, decided to look into his crystal ball and he sees the Bucs taking a flyer on LSU quarterback Zach Mettenberger.
Josh Freeman's gone, and Mike Glennon, even though coach Greg Schiano loves him, won't be the long term guy. While a read-option QB would be dangerous with Doug Martin, I don't get the sense Schiano is a fan. Dating back to his time at Rutgers, he seems to lean to statuesque pocket passers, which is why Mettenberger could be the guy. I put Bridgewater here because yes, I think Tampa could implode and end up with a top three pick. Another option: Bolster offensive line early, grab McCarron at the top of the 2nd round.
Now this is a very interesting pick for a number of reasons. Joe believes McIntyre is right on the money in that Schiano prefers a pocket passer. Given the fact that Mettenberger is schooled in an NFL offense by (S)Cam Cameron, Joe can easily connect the dots to where Mettenberg would be a Buccaneer Man.
But also in McIntyre's last sentence he throws out Alabama's A.J. McCarron. Joe told WTSP-TV Channel 10 executive producer Matt Sinn before the 2013 draft, if somehow Freeman was not with the Bucs in 2014 (this just in: he won't be), then Joe could easily see the Bucs going after McCarron. In Joe's eyes, McCarron would be the perfect Schiano guy. A quarterback schooled in NFL discipline by Nick Saban, fundamentally sound, a game manager.
Personally, Joe would love, if the Bucs do go for a quarterback, for them to land Johnny Football, but Joe knows that Schiano would never tolerate Johnny Football's partying ways, no matter how talented he is.
There is virtually zero chance, barring a 2-14 season, the Bucs have a shot at Teddy Bridgewater.