Yesterday, Today And Tomorrow
October 7th, 2013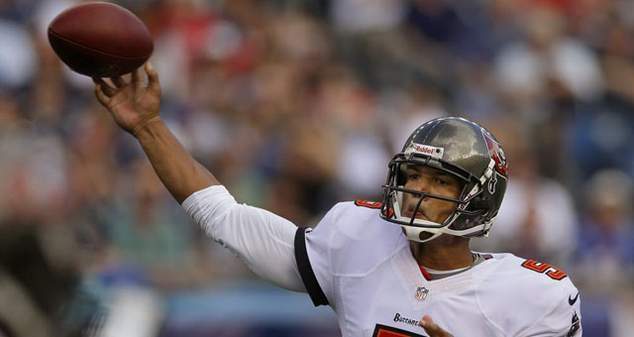 And, yes, the Josh Freeman era in Tampa Bay is over. "This Joe" was away for the weekend and hasn't really had a chance to weigh in.
Oddly enough, Joe found out about Freeman's release while switching planes in Kansas City, Freeman's home town.
Joe has had mixed feelings. When Freeman was drafted in 2009, Joe was vehemently against drafting Freeman with the 17th pick in the draft. Oddly enough, if one is to look at the first round in the 2009 draft, it is largely, well, blah.
Joe didn't think Freeman warranted that high of a draft pick. He threw for less than 60 percent completion percentage in college (a trend that would continue in the NFL – imagine?!). The list of quarterbacks who flamed out in the NFL who also threw for less than 60 percent in college is astounding. In fact, the odds of a quarterback who did not break the 60 percent plateau in college and then blew chunks in the NFL is staggering. Jay Cutler is one of the rare quarterbacks who did not pass for 60 percent who has had a decent NFL career, and to this day he still has a great deal of warts.
Joe is of the belief that quarterbacks in the NFL lead. They touch the ball every play. They are the engineers of the offense. Good quarterbacks raise the level of play of their teammates. Freeman surely didn't do that at Kansas State, and only rarely did that for the Bucs.
Freeman was one of those rare quarterbacks that needed to have virtually perfect play from his teammates in order to succeed. Joe believes the opposite should be true.
When 2010 rolled around, no one was happier than Joe. But as the games, seasons and years have gone by since, Freeman's 2010 season appeared to be more anomaly than signature.
No, Joe doesn't believe Bucs commander Greg Schiano wrecked Freeman. Freeman wrecked Freeman. Shoot, Freeman had arguably his best statistical season with Schiano as his head coach. Joe's not sure how people can argue Schiano Pearl Harbored Freeman's NFL career.
The revolving door of coaches doesn't wash with Joe ,either. Freeman had his worst season (2011) with stability on the coaching staff. (Stop with the nonsense that Freeman's defense forced him to throw so many picks. Geno Hayes, Stylez White and Barrett Ruud were not his receivers).
Freeman turned out to be what he was in college: an inconsistent quarterback with a losing record who did not raise the level of his offensive teammates, but with just enough talent and physical skills to tease the hell out of you enough to give the guy umpteen chances and excuses and rope. It was time for the Bucs to move on.
Bye week: The Bucs return from the bye week and unlike what a few Bucs fans thought, there was no head coaching change. Schiano is still here, and Joe isn't so sure Team Glazer is as fed up with Schiano as Bucs fans are. Joe really believes if Schiano can finish the season .500, he may be safe. That means he would have to win six games. Anything under that and all bets are off.
How Schiano and the Bucs finish the season in December will be telling. If the team has thrown in the towel (i.e. Raheem Morris' pitiful finish), then its a decent bet the Bucs will be coach shopping as well as quarterback shopping.
Eagles week. Since the first half of the first week, when all the NFL sophists proclaimed Chip Kelly (the almost Bucs coach) to be the next Vince Lombardi, the Eagles have crashed and burned. A loss to a team that is circling the drain will be damning to Schiano and his college-of-coaches staff.
No more pink: Joe knows he is going to get hammered for this, and doesn't care. This Pink October nonsense in the NFL has to come to a stop. Now.
On face value, it is noble of the NFL to raise awareness for breast cancer, truly an evil menace. But the more Joe peels the onion peel, the more it appears it is a money-making scheme under the guise of caring, which is shameful beyond words.
Joe reached his boiling point this week with the garish pink first down marker on NFL Network that burned the retinas in Joe's eyes, and pink flags for the zebras. It was so bad Joe turned to college football where he didn't need to make an appointment with his optometrist the next morning. Enough!
Now Joe is OK if this was for one week a season, not for a full 25 percent of the schedule. Does baseball have six weeks devoted to pink bats? Does basketball do a similar thing? Hell no, nor should they. Notice the NFL doesn't have a full month for prostate cancer with baby blue everything? Or perhaps the full month of November to honor veterans and the armed services where camouflage is all over the place? That's because the vast majority of men are football fans and, yes, the Armed Forces is largely male-dominated, and of course, they're already NFL addicts.
But women, well, that is still a demographic to mine to get addicted to the NFL, and more importantly, spend money. So of course the NFL is going to go overboard for breast cancer awareness. Women who follow the NFL is a growing market, somewhat untapped. There's gold in them thar hills. Pink gold.
If the NFL was so concerned with breast cancer awareness, instead of assaulting fans with pink, how about each team donate $1 million annually to the American Cancer Society to be earmarked for breast cancer research and study. Meanwhile, on the one weekend where teams wear pink stuff, there can be a real-time telethon to encourage viewers to donate to this fund throughout the telecast? Imagine the millions that could be raised?
But that would take away from precious commercial time with the television networks, and of course, take away revenue.
It grates Joe that the NFL, though its partner NIKE and its dubious Asian sweatshop factories, pump this pink crap out and then it is either sold or auctioned off. The NFL may claim they are not making cash off the sales and auctions of the pink apparel but someone is making money. NIKE isn't producing these items free. Is NIKE giving the NFL a break in the production costs?
How about giving 100 percent of the gross revenue – not net — from these items to the American Cancer Society, if this month-long optical barrage is truly for above-the-board purposes?
This whole pink stuff sure stinks to Joe. It's one thing to promote cancer research awareness, it's another to pander, and it's quite another to self-promote off the pain and suffering and – shall Joe say? – the death of cancer victims.
NFL
Browns: What does it tell you that after trading Trent Richardson, the Browns appear to be on a roll.
Bengals: Mock Andy Dalton if you wish, but the Bengals haven't been this good with him as a quarterback in years. Oh, he's led them to two playoff berths in his two seasons in the NFL while Josh Freeman has yet to watch a playoff game in shoulder pads.
Packers: A win is a win and Aaron Rodgers owns the upper Midwest.
Colts: Solid win against the Seahawks, arguably the best team in the NFC. Interesting that you don't hear Colts fans make excuses for Andrew Luck because he simply gets the job done.
Ravens: Knock off the talented Dolphins in South Florida. Joe Flacco again earns his contract.
Eagles: Joe gives them little credit for beating one of the worst teams in the NFL. The Giants are a complete and total mess right now. How far the mighty have fallen.
Rams: Joe watched this miserable game in person and will have more about it later, but, sadly, Sam Bradford is slowly turning into Josh Freeman . Bradford actually looked like Elway compared to the quarterback he faced, bumbling Blaine Gabbert.
Chiefs: Give Joe Alex Smith any day. So he doesn't throw long passes. So what? He wins. That's what counts.
Cardinals: Two wins in a row for grossly average team. Sort of reminds Joe of the Bucs, only the Cardinals win. Some.
Broncos: Oh, Peyton Manning is lighting up things again. In the regular season. Joe will be willing to bet he stumbles yet again come January.
49ers: With all the injuries the Niners have suffered, they grit out a strong win against a good team, even when their quarterback has a lousy game.
Raiders/Chargers: Sorry, Joe is not staying up until 3 a.m. to watch the Raiders.
Random thoughts:
1. Joe sympathizes with the plight of Jerry Kill, Minnesota Gopheres head coach. But the guy is having a seizure now just about every gameday. This has happened on and off since he took over the Gophers but now it happens seemingly every other week. This week, he had a seizure before the Minnesota-Michigan game and could not attend. Two weeks ago he had to leave a game after suffering a seizure on the sidelines.
Just when does the Minnesota hierarchy just tell Kill to take a desk job? Without trying to sound insensitive, how can a head coach earn his pay and do his duty when he cannot even attend a game? With all due respect, this is not fair to his players, nor the university which is paying Kill a handsome salary to, you know, coach. It's noble that Kill is trying his best despite his health issues. But it's getting to the point that those health issues are preventing him from doing his job. Again, it's time for Kill to come to grips with the sad fact that it may be better for everyone, including himself, if he works in an administrative job. Perhaps the stress of coaching is in some way triggering his seizures?
2. The Turtles: Maryland came into this weekend's games ranked No. 25 and after getting throttled 63-0 by Florida State, has gone from ranked to just plain rank. Simply put, the Turtles are Big Ten ready.
3. The Hoosiers: Joe Paterno is rolling in his grave. For the first time since joining the Big Ten, Penn State lost to Indiana. Just for that, the NCAA should reinstate its penalties against Penn State that were waived a few weeks ago. Embarrassing.
5. Rams WiFi: Joe was under the impression that the NFL ordered all teams to install WiFi for the fans in the seats. The dome the Rams play in had none. What's going on?
6. Rams II: This team is bad. Sam Bradford is getting no help from the collection of so-called receivers he has, dropping passes right and left but Bradford can't quickly read defenses. He is slowly treading on Josh Freeman territory. Rams fans are beginning to lose patience.
7. Rams III: The dome the Rams play in is really nice, for a dome. It is sad that somehow Rams owner Stan Kroenke can't make ends meet there. From a fan perspective, there isn't a bad seat in the house. However, if you haven't had lunch or breakfast, you better like hot dogs and nachos because that is about all the "food" that is sold there. If you don't like hot dogs or nachos, then you are SOL.
8. Blaine Gabbert is atrocious. Whoever wasted a first round pick on this clown needs to be dragged through the streets of Jacksonville.
9. Joe still thinks, as a freshman, Jameis Winston is more polished than Josh Freeman is as a fifth-year pro. If Winston doesn't get hurt, then this kid is going to be something very special.
10. Joe hopes the Rays can somehow win three straight from Boston, but Joe just cannot see it happening. Rays pitching hasn't lived up to its hype the past two games.
11a. Joe just wants to choke Mike Matheny, the Redbirds manager. The gall to sacrifice a game in a five-game series by starting Amy Lynn! Joe had personal business to attend to in downtown St. Louis on Friday, and after meetings, Joe got a $90 Cardinals playoff ticket on the street for $50. After Amy Lynn did her usual, Joe booed and some scolded Joe, who told said fans, "Sure as hell am not going to applaud such a gutless effort by Amy."
11b: In Game 1 after the Cardinals chased nipple-ring wearing/headcase A.J. Burnett after he surrendered seven runs in three innings, the normally docile Cardinals fans gave Burnett a standing ovation as he left the field. Joe thought that was pretty cool.