"There Are No Tricks"
October 9th, 2013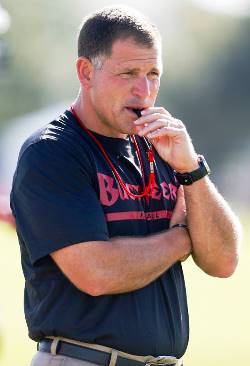 One thing stands out with the Eagles under Chip Kelly — you know, the same team under this offensive guru Kelly who has two more wins than the Bucs — is the quickness of the game.
Quickness meaning if Kelly had a way to figure it out, he'd snap the ball the instant the referee spots the ball. If nothing else, it keeps both the defense and offense on its toes, and in many cases, prevents situational substituting by a defense.
When asked if there are any tricks in order to slow down such an offense, Bucs commander Greg Schiano admitted there really is only one way to slow down Kelly's offense.
"Well, no, there are no tricks," Schiano said. "If you hit them hard, if you hit them hard, they don't get up so fast.

"We are not into — we are not going to feign any injuries or that stuff to slow them down. That's not what we do. That is not in the spirit of the game."
Now a cynic would wonder if diving at the football on kneel-downs is in the spirit of the game, but that's another story.
And Joe loves Schiano's theory of slowing down Kelly's offense. If a defender drills a guy hard enough, then he either won't, or can't, bounce up so quickly to take another snap to get drilled again in such a short span of time.