The Clock Ticks On Greg Schiano
October 20th, 2013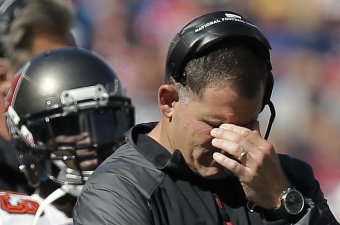 Joe isn't aware of what happens within the luxury offices of One Buc Palace, where Team Glazer gathers to make franchise-shaping decisions. But Joe's pretty darn sure Greg Schiano's future will be atop the agenda of the next shareholders meeting.
How could it not be?
Schiano has guided the Bucs to one win in their last 12 games. The team is getting progressively worse. Fans are outraged, deservedly so. Nobody with a sober mind can call the Bucs a well coached team. Nobody.
The Bucs have another game in four days against a rejuvenated, 3-3 Carolina Panthers team and their ferocious defense. Joe's almost afraid to watch what the happens to the Bucs in Seattle in two weeks.
Joe doubts Team Glazer makes any kind of coaching change during this season unless the Bucs start quitting on Schiano and that on-field surrender forces their hand. That hasn't happened yet. But the white flag can't be far away, barring a historic miracle. The other thing that could force Team Glazer's hand on a coaching change is fan outcry. Do Bucs fans care enough to march in front of One Buc Palace or boo Schiano out of the Stadium on Dale Mabry Highway? Joe suspects too many fans are too numb and already tuned out.