Stats Are For Schiano
October 22nd, 2013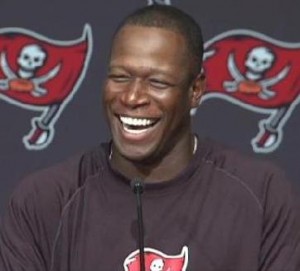 A famous motto of the Raheem Morris regime was "stats are for losers." Raheem insisted all the popular statistical data was for reporters and fans and it wasn't going to waste space in his "gray matter" or the brains of his players. 
Buccaneers players bought in and repeated the line publicly. It seemed to keep the team focused on winning for a good while.
But the anti-Raheem, Greg Schiano, appears to love quoting stats. Mired in a stretch of 11 losses in 12 games, Schiano is going hard to the stat sheet to justify his team's alleged progress.
Schiano quoted all kinds of stats yesterday on his radio show on the Buccaneers Radio Network and WDAE-AM 620. Below is one example. A frustrated fan, "Aaron," called in to vent and about the New Schiano Order's coaching ability and more. After a rant, Aaron was prompted to ask a question. Schiano responded with all kinds of data.
Fall Caller "Aaron": … Why is the team looking worse and worse every week? And why aren't we improving? And why is there so many excuses going on week after week of why the team is doing this and why the team is doing that? So that's my question.

Greg Schiano: Well, Aaron. I understand your frustration; that's for sure. I'll try to address the points. I don't agree with you that we're getting worse and worse. We've lost some tight ball games, some tough ballgames. And a lot of the reasons we've lost them is things that we've done ourselves, penalties and, you know, we've been even in the turnover margin in every single game, which is almost unheard of.

It's weird, usually someone wins, someone loses. But when you're even in the turnover margin, usually you're kind of even in your record, whether it's .500 or a game under or a game over. We have shot ourselves in the foot numerous times with, you know, penalties and things like that. I do put the responsibility on me and the coaching staff. As I said to the media and I also said to our squad, it's a lot of the same guys that last year were 11th [best] in the league in penalties, which is not a bad spot to be. You never want to be top-5; I think you're not trying hard enough if you do that. You want to be somewhere between five and 10th best, 11 last year was decent. I had no reason to believe that we wouldn't do the same thing [in 2013]. We have officials every day at practice and we really stress it. But for whatever reason we're not getting it done. So that's what I mean when I say we got to get better.

There's a lot of good things we're doing. Offensively, I think the emergence of Mike Glennon is really been something to get excited about. I look at him and in his three starters he's gotten better and better and better. He's performing at an NFL-quarterback level. He's only going to get better as he gets more comfortable. Defensively, you know, what we've done the last two weeks is giving up really what amounts to five big passes. Earlier in the season we weren't doing that.

But, you know, there's so many areas that I look at that we're improved. Our third-down defense, we're tenth in the league in third down defense, we're 10th in the league in third-down defense, getting better, better, better than last year. You know, we're fourth in rush defense, which keeps us in the top-5 in rush defense. We're in the red zone, we're playing really good red-zone defense. I think we're fourth or fifth in red-zone defense. So there's a lot of things that I look at as a coach that I have to evaluate.  Ultimately, there's only one thing that matters and that's wins and losses. But as a coach I have to look at the process. How are we doing? We're not doing well in the penalties. We're getting better on offense. Defensively, we've given up four or five balls over our head, which we weren't doing early in the year. And that's really how we've lost the game, between penalties and giving up some big plays the last two games is what cost us. But, you know what, I don't see a team that's not making improvement in certain areas but it's not consistent in all areas.
Notice how Schiano is inconsistent about when he chooses to compare things to last season, like saying the offense "getting better," but Bucs fans know it's nowhere near last year's 9th-ranked unit.
Regardless, this is a window into what helps keep the head coach positive in the face of losing stretch worse than that of his predecessor.