Sherdian Has Words For Schiano Haters
October 31st, 2013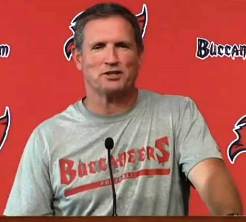 Never has Joe seen so much drama circling around the Bucs like it has this season, like a buzzard hovering over the carcass of a deer.
It's one thing after another from the start of training camp, although the drama and leaks have subsided substantially since leaky Josh Freeman was tossed off the team and run from One Buc Palace. Feel free to do the math.
But fans' ire, loathing and (not Mike Glennon) mob mentality, bordering on a lynch mob mentality all in the name of firing Bucs commander Greg Schiano, has eye-RAH! Kaufman of The Tampa Tribune worried.
Kaufman has said on several radio shows, both local and national, he has never seen such "vitriol" from Bucs fans. So he posed a question this afternoon to Bucs defensive coordinator Bill Sheridan, who recently invited fans to join in game-planning against opponents for free Cokes but shunned them at the gates of One Buc Palace, if he has felt the wrath Bucs fans have for Schiano.
"I appreciate you asking me that because it gives me a chance to speak on that," Sheridan told Kaufman. "It definitely is not warranted. It may be very hard for people on the outside who don't know Greg, because for some of the criticism he has received — I don't have first-hand knowledge; I don't follow but indirectly, we all get it, right? — It definitely is not warranted.

"I have worked for a lot of quality people in this profession long before I ever came to the NFL. And I certainly worked for quality people in the National Football League. I would put Greg up against anybody I have worked for in regard to a guy of single-mindedness of purpose towards doing the job he has been asked to do and doing it with complete and total integrity. And in our profession, if we get criticized for that, well he should be criticized.

But all he has ever done since I have been here and worked for him is be the first guy in the building and the last guy to leave. Focus his entire energy and concentration on what he can do on a daily basis to help the Bucs win. And he has done this with complete and unadulterated integrity. So, in our profession, if we get criticized for that, then that's the way it is.

"Nobody cares how hard you are trying right? We are in a production business and a performance-based business. It is frustrating, but everybody else works hard too."
Joe has noticed in the past few days, for reasons unknown, the lit torches crowd has somewhat calmed down about driving Schiano to the nearest bus stop. Perhaps it is because Bucs fans have finally worn themselves out from the hollering and typing and kvetching?
But Joe has noticed a great uptick in fans wanting to nail Bucs rock star general manager Mark Dominik to a tree, which saddens Joe and disturbs him.