Running Against The Grain; Overruling Sullivan
October 29th, 2013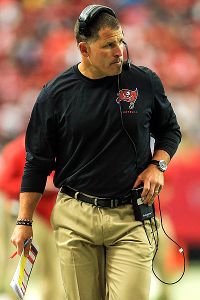 In a somewhat ironic twist, the NFL is proving to be more of a passing league than ever yet Bucs head coach Greg Schiano talked multiple times yesterday about how he and his staff blew it by not running the ball more against the Panthers.
This was somewhat bizarre on two levels. First, the Bucs had no chance against Carolina without going to the air. They were trailing big early. Second, Schiano telling everyone that will listen that the Bucs need to run the ball much more on Sunday screams of the head coach trying to sell a smokescreen because he plans on Glennon throwing early and often.
NFL stats show that halfway through the 2013 season only three teams have starting running backs averaging more than 80 yards per game: LeSean McCoy (91.6), Adrian Peterson (81.6) and Alfred Morris (80.7). And none of their respective teams have a winning record.
The totals represent a significant dropoff from years past. Last year, six running backs averaged 89 or more yards per game.
Joe would love to see the Bucs pound the rock successfully, but they've proven incapable of that this season. And with Doug Martin out of the lineup, it's downright foolish to think they'll be able to pull a running game out of thin air — in Seattle.
Yesterday, Schiano came very close — and it Joe's opinion he did — to publicly criticizing Mike Sullivan for getting away from the run and being seduced by the talent and execution ability of Mike Glennon. Schiano talked about it during his news conference, and during his radio show.
"We need to be more committed to the run game. And that's me. I know that we have an offensive coordinator who calls plays. But I have a say," Schiano said on WDAE-AM 620 last night. "I can get on and say, 'Look, I want to keep running the ball. Let's run it, you know, more.' In our game planning, I need to do a better job of making sure that that's clear."