Pewter Report: Fire Greg Schiano Now
October 14th, 2013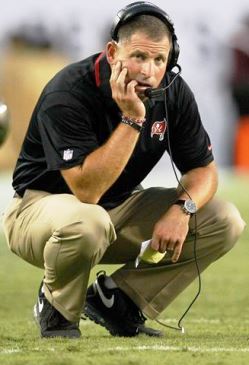 In a report published earlier this morning, the chieftain of PewterReport.com takes a bold stand. After watching the Bucs sink to 0-5 to start the 2013 season, Scott Reynolds has seen enough.
The Bucs need to part ways with Greg Schiano immediately, writes Reynolds.
It's time for the Buccaneers to fire Schiano. It's time for the Glazers to step in right now, this week, and relieve him of his duties in a message that would tell the players, the remaining coaches and the fans, who pay good money to attend the games, as well as those who watch the team in frustration each week on television that losing 10 out of the last 11 games is unacceptable, and that they won't stand for it.

Isn't that what they essentially told the fans when they fired Raheem Morris before hiring Schiano? Didn't the Glazers say that the environment at One Buccaneer Place had gotten "stale" following the 2008 season under Jon Gruden? Those back-to-back seasons of 9-7 records that Gruden produced probably sound really good to Buccaneers fans right now.

MRSA isn't the only thing that has afflicted the Buccaneers this season. Losing has also infected One Buccaneer Place, unfortunately.
Reynolds also types that the Bucs not only have a locker room with a staph infection, but also a [coaching] staff infection.
Joe will document many, many reasons Team Glazer could use to dismiss Schiano in his weekly "Yesterday, Today and Tomorrow" column that Joe is about half-finished typing. Of course, the common denominator is losses
But here is why Joe isn't in a rush to see Schiano walk away: If you are not going to make the playoffs, then lose big and get a really good draft pick in order to land, say, a Teddy Bridgewater or Jadeveon Clowney.
Yeah, the losing hurts. But that pain will pay off for years to come with giddy drunkenness if the Bucs could land a Hall of Fame-type player to lift the Bucs to postseason play for, say, a decade.