No, Team Glazer Shouldn't Speak
October 15th, 2013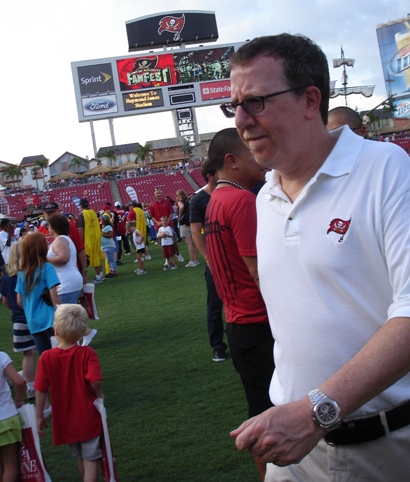 Tampa Bay Times columnist Tom Jones has harsh words for Team Glazer today, calling out the owners to emerge from their silence and address the mess that is the Buccaneers football operation.
Jones says it's the Glazers' duty, and even goes so far as to say the Glazers are irresponsible and bad business people for keeping quiet in the face of team disarray. The Times also had an artist lampoon Team Glazer and add a good 35 pounds to their depiction of Bryan Glazer. 
You're due an explanation, and somebody who signs the checks owes you that explanation.

This is their creation. They hired Dominik. They hired Schiano. It's their building that houses a bad football team as well as a serious staph infection.

And now they need to explain it. All of it.

The Bucs have become a soap opera. And it's not even a fun soap opera. It's a sad, pathetic, petty soap opera. And the Glazers are at the helm.

They need to publicly show that they care — about the state of the football team, about the future of the head coach and GM, about the medical conditions at One Buc Place.
Joe finds Jones' take ridiculous and out of touch.
Joe doesn't want to hear from Team Glazer. Why? Because there is nothing to say.
The Bucs are 0-5 and have lost 10 of 11 games. Nothing speaks louder or more clearly than that. The Bucs stink, and they're led by a head coach who has yet to prove he's a capable NFL head coach, though said coach repeatedly says he knows how to work his way out of a losing streak because he's been there before (how comforting).  
Fans only want Team Glazer to talk in one way — with their wallets. And Team Glazer already has done that. They've chased and bagged elite players for two years. They've eliminated blackouts for 2013. They've dropped ticket prices. They've helped recent bids to bring more Super Bowls to town.
This isn't a Jerry Jones, Daniel Snyder sideshow in Tampa. Fans don't care what owners have to say unless it involves money. If Rays owner Stu Sternberg is talking about payroll, or free parking or a new stadium, fans are all ears. If he talks about anything else, nobody remembers or cares. Lightning owner Jeff Vinik? He's celebrated for his local investments, arena, community, etc. Anybody care what Vinik has to say about his team circling the drain last season?
Don't worry, Mr. Jones. Team Glazer will talk again when it matters — when it's time for regime change.