Maybe Revis Can't Play Man-To-Man?
October 18th, 2013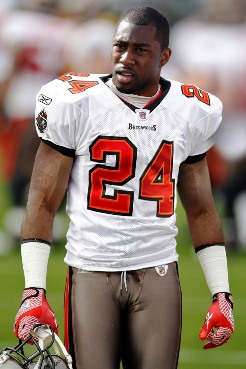 Joe knows the subject de jour lately has been the Bucs are playing in a man-to-man/zone defense, depending on who is doing the talking.
Ask fans and well-respected analysts, and they state without a doubt the Bucs are playing Darrelle Revis in a zone defense. Ask the Bucs, and they smile and invite fans to help craft game plans.
Some even are so bold to suggest Bucs commander Greg Schiano is throwing away good, hard-earned Team Glazer cash by "wasting" Darrelle Revis. That's what Pete Damilatis of Pro Football Focus recently told Sports Talk Florida.
"Starting to really believe that the Buccaneers are really wasting him. One of our analysts, Sam Monson, made the analogy that I am going to steal, that it's like buying a Ferrari and using it to grocery shop. You have one of the best man-to-man cover corners in the league. He excels at locking down one guy. You put him out there and you are basically just playing 10-on-10 because you don't have to worry about [the opponents'] top receiver. … I don't know why you would give up the draft pick and give up the [mega] contract to get [Revis] if you are not going to use him the way he is meant to be used?"
Joe has an idea why. Perhaps Revis isn't 100 percent? Recently, Revis was asked if he was fully recovered from his major knee surgery from last year, and in so many words, he suggested he was getting there. It was hardly a definitive answer.
Notice that David Joseph, who also had knee surgery last year, is not his same self? This is largely because he has yet to fully rebound from knee surgery and Revis had his surgery a few weeks after Joseph had his.
Maybe Revis' body can't handle the rigors of a full game playing man-to-man, and can only perform in such coverages a few plays a game (he has), that his knee or his body isn't allowing him to make the sharp cuts and stops and starts needed for strong man-to-man coverage for a full game?