Live And Learn
October 17th, 2013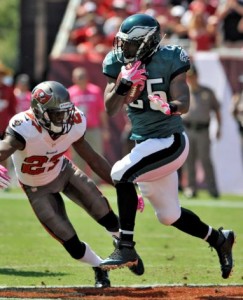 Part of the Bucs loss to the Eagles that still rolls around in Joe's noggin is that of all people, N-bomb dropping Riley Cooper fried Bucs cornerback Johnthan Banks.
Today in the Bucs locker room, Banks fessed up to his mistakes. But like a rookie should, Banks admitted those plays are not in his memory bank.
"I've just got to live and learn," Banks said. "I'm playing this game, I'm a rookie, I'm out there flying around having fun making plays. I made two mistakes that cost our team some big yards and seven points, but I'm just out there having fun and it's a big learning experience. If I don't take anything from those games there's no use of me being out there. Every game I'm out there I make a mistake, I learn from it. That was one of those things where I hate that it happened, but I'm kind of glad it did happen. It's something I can learn from. It's something I can work on and get better at."
Banks did give a lot of credit to his fellow members of the Bucs secondary who have taken him aside for personal tutoring to help him accelerate his NFL learning curve.
"My teammates, they're always supportive," Banks said. "That's one thing about this team, I came from a great team in Mississippi State, but the family environment here it's like totally different, I'm so comfortable being around these guys. I enjoy coming into work and working with these guys. All these older guys, [cornerbacks] Mike [Adams] and [Darrelle] Revis, they knew I was kind of down about it and they both just kept talking me up and they've been helping me out along the way and it's been fun."
This week, Banks will face another elite quarterback in a short time period. First it was Drew Brees than Tom Brady and now, Matty Ice, as the Dixie Chicks find themselves in a desperation game for playoff-hope survival.
"I'm getting used to it, it's been fun, just getting to go against these guys," Banks said. [Atlanta Falcons quarterback] "Matt Ryan, I think he's similar to [New Orleans Saints quarterback] Drew Brees, all of them are different but I honestly think Matt Ryan is similar to Drew Brees. He's a really good quarterback, probably one of the top five, top 10 quarterbacks in this league and it's going to be another challenge going out and facing him."
The cool thing about this, if there is one, for Joe is that Banks actually knows he made a mistake and seems to understand, partially from listening to his teammates, what he did wrong and what to do to correct his missteps.
The fact he'll face two sure-fire Hall of Famers and a perennial Pro Bowler in three of his first seven games will certainly help him down the road.