Josh Freeman = Blaine Gabbert
October 7th, 2013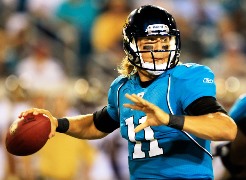 Joe, partially roped in by old friends, attended the Jags-Lambs game in St. Louis yesterday and can attest with eyewitness evidence that Jags quarterback Blaine Gabbert is miserable beyond words. Just think "Wild Thing" in the movie "Major League." One pass is on the money, and the next three won't come within five yards of a receiver.
Jags receivers are seen diving for passes all the time in desperate attempts to reel in Gabbert's throws.
Whoever decided to throw away a first round pick on this Gabbert needs to be dragged through the streets of Jacksonville. It is beyond human comprehension how Gabbert will be the Jags starting quarterback in 2014, given how the Jags will make a run at the Lions' winless season and have their pick of the litter in a draft rich with quarterbacks.
So when Joe read Olive oil-lapping, popcorn-munching, coffee-slurping, fried-chicken-eating, oatmeal-loving, circle-jerking, beer-chugging, cricket-watching, scone-loathing, college football-naïve,baseball box score-reading Peter King, of Sports Illustrated and NBC Sports fame, compare defrocked Bucs franchise quarterback Josh Freeman to Gabbert, it raised Joe's eyebrows.
Shouldn't we judge players by how they play? Seems like we've heard every excuse—coach Greg Schiano is a hands-on-your-throat, privacy-invading nutcase, mostly—for why the Bucs were losing and Freeman was playing poorly. Now, Schiano certainly deserves his share of the blame for a team that has lost nine of 10. It's his team, and it's his job is to instill the kind of discipline found lacking at times this year (as in Lavonte David's late hit in the first game, allowing the Jets to win). But all of the blame on Schiano, or most on Schiano and some on second-year offensive coordinator Mike Sullivan? I'm not buying it. Freeman has to take his share of the responsibility too—a lot more than he's been assigned in the public view so far. (Last week Roy Cummings of the Tampa Tribune documented a series of Freeman screwups, including missing the team breakfast and being late for the bus on opening day, then skipping two team meetings after being demoted from the starting job.)

So: I set out to compare Freeman's last 10 starts to some reviled quarterbacks, just to see how he fares. Let's say I asked a good football fan, "Who's the worst starting quarterback in football right now?" My money's on the fan saying Blaine Gabbert. If Gabbert isn't the one, he's close. And who else has been judged to be a bad quarterback in the last couple of years, so bad he can't find employment in the league? Tim Tebow.
So King compares the last 10 games played by Freeman, Gabbert and cult hero Tim Tebow. While Tebow's numbers are appalling, Freeman's are near identical to Gabbert, except that the human pinata Gabbert has a better completion percentage.
Now will Joe say Freeman is as bad as Gabbert? No. He has much better tools and at one time played on a Pro Bowl level.
But at some point, a quarterback has to get results. Freeman didn't and his numbers showed he was too Gabbert-like.
When you are both losing and playing like Gabbert, your tenure with said team is dire. Thus, Freeman, fueled by his petulance after getting benched, sealed his fate.