"It's A Debacle"
October 14th, 2013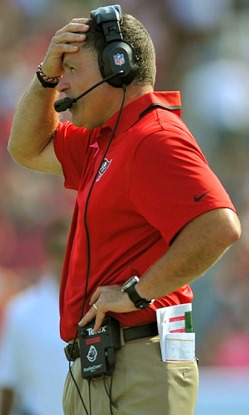 Greg Schiano may be the most hated man in Tampa Bay right now, and it is a shocking slide from grace, as quick and as bad as Joe has ever seen.
Just three or four weeks ago, Schiano was still respected if not embraced by Bucs fans. They loved his "toes-on-the-line" mentality and how he demanded players stay in line or get your arse to TIA before sundown.
After the chest-bumping ways of Raheem Morris when trailing by three touchdowns, the New Schiano Order was refreshing. But the bloom off the flower finally wilts when there is loss after loss after loss and the fire and brimstone ways, as the losses mount, begin to feel more like a crazed junior high PE teacher than an NFL coach.
Joe will explain later this morning why Joe has changed his mind about Schiano's (lack of) future in Tampa Bay. But there is one man who thinks Schiano may not see Halloween as Buccaneers coach, and that is Tampa Tribune humorist Martin Fennelly.
It's a debacle. I exclude the MRSA mess, which is no laughing matter.

Schiano's record, that's a laughing matter. He can't survive 0-8 if it gets that bad.

I'd call this a circus, but I've stopped doing that out of fear of litigation that actual circuses might consider it libelous to be compared with the Bucs. Hey, don't think guys with seltzer bottles don't have lawyers.
Hhhmmm. Joe always associated seltzer bottles with The Three Stooges, but that's another story for another day.
Joe is still somewhat of the belief that Team Glazer will keep Schiano through the end of the season, and Joe is OK with that. Team Glazer has never made a coaching move midseason. And let's be honest: As the losses mount, the better the Bucs' shot of landing Teddy Bridgewater or Jadeveon Clowney.
Now Joe was talking with some fellow sports scribes yesterday, and the consensus do not agree with Joe. One vaunted journalist told Joe, "You have to be able to hang a 'W' next to your name at some point."