iPad, Film-Study Addict Lavonte David
October 29th, 2013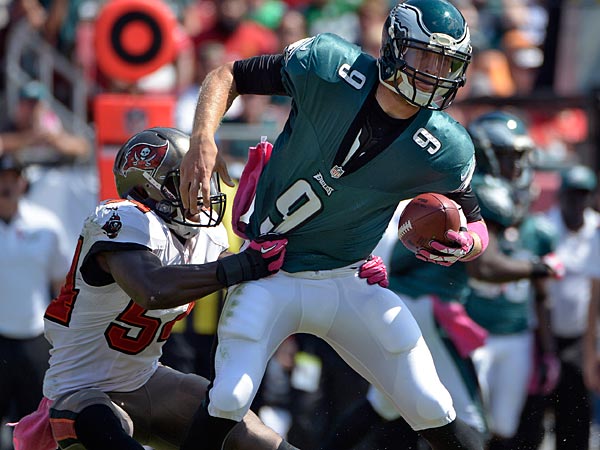 He's third in the NFL in tackles for loss, among the leaders in solo tackles, has five sacks, and is a stunning beast of second-year linebacker. Lavonte David's talents are almost wasted on the winless Bucs.
David is a huge bright spot this season, minus his costly, silly blunder at the Meadowlands.
The humble and guarded David took to the WDAE-AM 620 airwaves last night to talk Bucs. But one thing that got David to open up was discussing his love of film study.
David had a good rant about how he pores over film so it leads to "anticipation," not "guessing" right, when it comes to tackling opponents, shooting gaps and taking angles. He said the Bucs have good group study habits, but he's goes a couple of steps further with his team issued iPad.
"I think the iPad is a great thing. Like, you can be, not saying that staying at [One Buc Palace] isn't a comfortable setting, but being at home with your feet up studying plays and things like that is even more relaxed, you know what I mean, so you can really focus in," David said.
What a football junkie David is. The guy likes to work all day and study film after hours on his couch — so he can "really focus in."
Initially, Greg Schiano  basically eliminated player iPad usage during the early days of his regime, resorting back to old school notebooks and photocopies. But iPads returned slowly as a study tool in September 2012. Joe's glad to hear an update that the iPads are in the fold. What a great resource.
Interestingly, it was innovator Al Gore Raheem Morris who started the iPad trend around the NFL, so Team Glazer explained.
Again, David is a real gem. Through his first 23 games, Derrick Brooks had 142 tackles, one sack, and one interceptions. David, who is still just 23 years old, has 198 tackles, seven sacks and two picks in his first 23.