Greg Schiano Is "Under Siege"
October 5th, 2013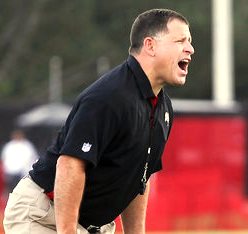 Joe was talking with his good friend Justin Pawlowski, of WHFS-FM 98.7 fame, and Justin believed not Chucky, not Raheem, had nearly the entire Bucs fanbase enraged like it is now.
Justin may have a point (though had Raheem been brought back for the 2012 season, Team Glazer would have had to have One Buc Palace ringed by armed security). Today there are few people Joe can find, whether hardcore or casual Bucs fans, who seem to be firmly in the corner of the Bucs commander Greg Schiano. It all turned so suddenly; Joe is shocked.
Even the Custodian of Canton, eye-RAH! Kaufman of the Tampa Tribune, seems taken aback. He spoke about the fan unrest in his weekly appearance with the one and only Chris "Mad Dog" Russo heard exclusively on SiriusXM Radio.
"I have never seen a coach under siege like this. Every day Schiano is getting blasted. You have to think some of this is coming from Freeman's camp, his agent. You know how these things work Chris. It is bad. It is really bad. Every day the soap opera gets another chapter. I don't think the Bucs leaked [Freeman's drug program involvement] and if they did, they deserve all the wrath they get.

"Tremendous — tremendous! — anti-Schiano backlash down here in Tampa. Nobody wants to hear what he did at Rutgers. He has a 25-man coaching staff and they look poorly coached. There is talent on this football team."
As John Madden was famous for saying, winning is the best deodorant. Win and the masses calm down (though for the Bucs' drafting needs, losing is the best path). Joe would expect if Schiano goes 6-6 the rest of the season, then he would be safe.