Greg Schiano Is Having Fun
October 31st, 2013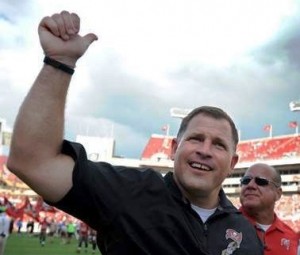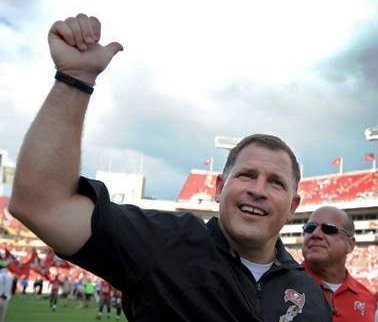 Winless and hoping this is not the last two months of your current gig would be drudgery for Joe. It would be hard to get out of bed much less sleep at night. But that isn't the case for Bucs commander Greg Schiano.
Despite being mired in such a predicament, Schiano can't wait to get to his office at One Buc Palace early in the morning. For reasons unclear, Schiano seems to have a revived energy about him. That jumped out at the pen and mic club yesterday in Schiano's daily press briefing, when local cable TV sports king Rock Riley asked Schiano if he was still having fun.
Schiano couldn't hold back and gushed over how much he covets coaching football.
"Every day. Every day. I love what I do," Schiano said. "Twenty-six years, get up every day. Excited to do it. Some days aren't real fun. You walk into the postgame press conference — nothing personal — and you just got your ears kicked in. I know you are going to get asked the questions — I'd ask the questions if I was a reporter. That isn't always fun. It isn't always fun for what your family has to go through but as far as my job? It's the best! What I do for a living, I wouldn't trade it. I love it. I know I speak for our coaches and players, that's what makes it exciting. We are going out to what I think is one of the greatest venues in sport. I can't wait for them to raise that flag. … Here we go. It's going to be nuts. We get the loud crowd.

"I'm having a lot of fun."
Joe isn't sure many other NFL teams consider the chamber of horrors stadium the Seahawks play in a fun place. But Schiano looks upon it as a fun challenge, just like each week is a challenge, a chess match, trying to outwit his coaching colleagues on the other side of the field.
Yes, strange things have happened in the NFL. Who would have guessed that now-leaky and former Bucs franchise quarterback Josh Freeman, in his first NFL start, would come-from-behind and beat the Packers? Beating the Seawhawks on their home turf, given both teams' respective records, would be akin to what Freeman did to the Packers.