"Don't Be An Idiot!"
October 23rd, 2013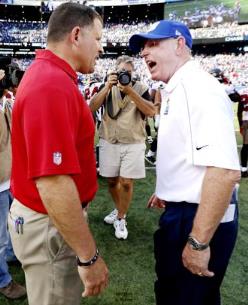 Joe is simply amazed at the deep hatred Bucs fans have leveled on Bucs commander Greg Schiano. The tide seemed to turn on Schiano when the saga of defrocked franchise quarterback and leaker Josh Freeman was tossed out of town.
(Notice how the drama with the Bucs has subsided now that Freeman is no longer employed by the Bucs? Hhhmmm? Funny how that works.)
One would think with how horrid Freeman played against the porous Giants defense Monday night, a historically rotten performance, that perhaps Schiano has an idea what he is doing, no?
No, is what the one and only Chris "Mad Dog" Russo would say. During his weekly segment with theMMQB's Peter King Tuesday, heard exclusively on SiriusXM Radio, Russo, who hosts the show that bears his name, "Mad Dog Unleashed," engaged in a memorable rant about Schiano's kneel-down defense, which keeps rearing its ugly head.
Chris "Mad Dog" Russo: You know, Schiano, the old college try, the team is trying to be competitive. But do I need to see him do this stupid thing with this crashing into the line of scrimmage as he did on Sunday in Atlanta? Do I need to see this again? I mean, Greg, stop with the rah-rah college garbage, please. The game is over. You had the ball for 9,000 minutes in the fourth quarter and all you could get was two field goals. And he's crashing the line of scrimmage there at the end against the Falcons, which he has done in the past, last year at the Giants. He didn't learn his lesson. What is your take on that?

Peter King: I am not a fan of it. At all. Because I think that, ah, there is enough problems in the NFL today with guys getting hurt on plays that really count and plays that matter. You are just making guys play more plays. I don't agree with it. It is clear by now that he is going to keep doing this. You know, it's not going to change so if you have a team [that is playing the Bucs] you are going to have to…

Russo: Doesn't he realize…

King: … prepare for it. I'm not a fan of it.

Russo: Doesn't he realize that he is ostracizing fans, media, some players and some coaches by doing this kind of stuff?

King: He will always go back to that one time at Rutgers where it helped him win a game.

Russo: Aw, stop! Come, on! He's not going to win a game on that, Pete! C'mon, Greg! Don't be an idiot!

King: I am not saying that he will. I don't agree with it. I do think you create more enmity in the very one-in-a-thousand chance that you are making a play that you are going to work. I don't buy it either.
Now Joe spoke to Russo last year at Super Bowl media day and Russo likes Schiano. Russo, though, clearly doesn't like the Schiano kneel-down. Clearly.
This is yet another of the strange contradictions that Schiano has. Schiano is a big time promoter of health among football players. Just yesterday he expressed concern over how smart it may be to play Thursday games because of the health of players and injury prevention. Schiano has even campaigned to have kickoffs eliminated from football as he believes it's too easy for players to get hurt on kickoffs.
Yet on a play which is prone to get guys hurt, Schiano is in favor of it time and again and staunchly defends said play. Joe doesn't get it.
This is one of those mysteries about Schiano that Joe can't solve, just like how he is a disciplinarian yet his team plays so undisciplined with rashes of penalties and dumb errors seemingly each week.