Carl Nicks' MRSA In Arm?
October 10th, 2013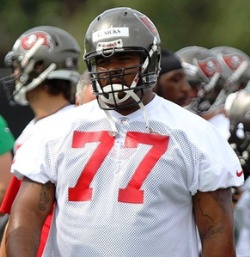 MRSA, a nasty staph infection that can be fatal, is nothing to play around with. Now word comes that the first time Bucs guard Carl Nicks dealt with the MRSA infection this summer, it was so bad that it had spread from his foot to his arm, writes Tom Pelissero of USA Today.
Nicks, 28, had an infected blister on the side of the foot. At one point, the infection spread to one of Nicks' arms, a person with knowledge of the situation told USA TODAY Sports on condition of anonymity because he wasn't authorized to speak on the matter.
One of Joe's trusted Bucs sources claims he was unaware that Nicks had any MRSA in his arm and that the USA Today report is "BS 100 percent."