Bucs: Davin Joseph Not Infected With MRSA
October 30th, 2013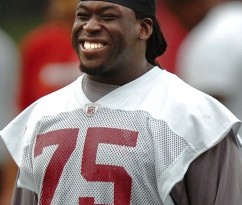 Joe brought word earlier today of a report that all-around good guy and Bucs offensive guard Davin Joseph also was inflicted with the MRSA staph infection, which has permeated the Bucs locker room.
Well, this brought a swift, quick and adamant response from the Bucs.
In no uncertain terms, Joe was told by a highly trusted source at One Buc Palace that Joseph is not battling MRSA. The Bucs "strongly" deny this report and are "emphatic" there have been but three players who contracted MRSA. We all know who the three players were.
You may resume your colorful but misguided theories about how Bucs rock star general manager Mark Dominik is responsible for world hunger.