Blame Josh Freeman
October 7th, 2013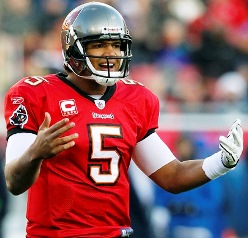 Many Bucs fans are still outraged that Bucs commander Greg Schiano not only benched defrocked franchise quarterback Josh Freeman but cut him.
As it turned out, Freeman not only became a bad quarterback, not only became a distraction for a team scrambling to win its first game, but turned into a petulant child where the Bucs had to run him.
Woody Cummings of the Tampa Tribune apparently obtained documents that detailed all the issues Freeman created for himself. It's a wonder a law-and-order guy like Schiano would put up with Freeman this long. Cummings typed an article and seemed to agree.
It's a sad tale, this Freeman saga. It might be the saddest and ugliest in the history of a franchise with a long history of sad and ugly sagas. The saddest part is that it all could have been avoided.

Clearly, the Buccaneers tried to avoid it. They gave Freeman a pass after he missed the team photo shoot and cut his fines for the opening-day offenses to a third of what they could have been.

And for three games they stuck with him despite a level of play that had him ranked 33rd in a 32-team league in passer rating and produced a league-low three offensive touchdowns.
So, Freeman blows off a team breakfast the morning of the season-opener, then he's late for the bus going to the stadium. Then on the first series, in three consecutive plays, Freeman calls two timeouts and the team is flagged for delay of game.
Sure sounds like a guy who was preparing for the game, doesn't it? A first series of a game, which is always scripted, and Freeman bungled that?
Look, Freeman is no innocent soul in this saga. In fact, he pulled a Terrell Owens. He was anything but a leader, anything but a team guy, which was proven in his final days.
Freeman's departure may be addition by subtraction. He's Minnesota's problem now.
Schiano didn't wreck Freeman. Freeman wrecked Freeman.