Bill Sheridan Invites Input From Fans
October 17th, 2013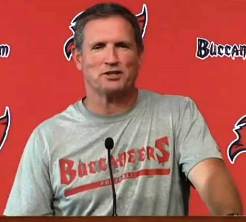 A common perception of the Bucs defense is that defensive coordinator Bill Sheridan, under the watchful gaze of Bucs commander Greg Schiano, has all-world cornerback Darrelle Revis playing much more zone coverage than man-to-man.
This is not completely accurate (or inaccurate). Revis has played zone, true. But some fans, for whatever reason, are under the misguided notion that Revis is playing more zone than man coverage.
It seems Sheridan is tiring of this perception and wants to help Bucs fans out. In fact, he's even open-minded to getting fans' suggestions to better the Bucs defense. Sheridan, during his weekly press conference this afternoon at One Buc Palace, invited fans to sit in with defensive assistants to craft a gameplan.
When asked about fans' perception that Revis is playing mostly man, Sheridan flashed an ear-to-ear grin and said:
"What are they chirping about? Tell me what they are chirping.

"What I invite them to do is, join us. I get here about 5:20 a.m. every single morning. And they are more than welcome to hang around until 11 p.m. for the first four nights of the week and they can help us put the whole gameplan together.

"We have all the free Cokes you would want in the building. And we'll be happy to take their suggestions on how we could better use Darrelle. Trust me when I tell you we painstakingly game plan how to best use all our personnel. Not just Darrelle.

"But I appreciate the chirping."
The smile never left Sheridan's face when he invited public input. His remarks can be found here at the 4:20 mark.
Joe has to give Sheridan a lot of props. Many thin-skinned coaches would have blown up. Sheridan was good-natured and had some fun.
At least someone isn't wound too tight at One Buc Palace during these dark days for the franchise.