You Have To Use Your Head!
September 8th, 2013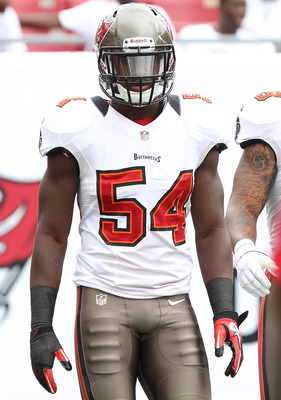 Joe just came from the Bucs locker room and will have quotes later, including some from Bucs stud linebacker Lavonte David.
The second-year man out of Nebraska had a memorable game. Too memorable in fact. David had three tackles, five assists and two tackles for a loss. He was all over the field. But it was his pursuit of Jets rookie quarterback Geno Smith that will be remembered for years.
Smith was flushed out of the pocket on a desperation play with the Bucs up by two points and the clock ticking down to zero. Smith just got out of bounds at midfield to kill the clock and give the Jets one last glimmer of hope.
But in pursuing Smith, who stepped out of bounds, David shoved Smith in the back. Given how the NFL and referees are just looking to throw a flag on someone coughing on a quarterback, David's shove, while harmless, was just enough for a zebra to grab his yellow hankie and toss it in the air.
Personal foul on David. That's a 15-yard penalty. What would have been fourth down and a forced Hail Mary (or a 60+yard field goal attempt) was now a first down on the Bucs-30 yard line.
And of course, the ensuing 48-yard field goal by Nick Folk was good and the Bucs had victory grabbed from their hands.
Look, Joe loves David. He's one of Joe's favorite players. But you just do not, cannot, allow a referee a chance to throw a flag in that situation. Smith was out of bounds. There was no need to even try to tackle him. He had to run out of bounds to kill the clock or the game was lost (or won by the Bucs).
It simply was a brain-dead, stupid penalty. There really is no way to sugarcoat how bad that was.
David is a fantastic player. But each and every Buccaneer must know and understand the circumstances at every given down, especially when the clock is ticking down.
David may have won some games for the Bucs last year as a rookie. He likely will win some games for the Bucs in the future. But today, he blew a game.