"You Can't Load The Entire Roster In A Two-Year Period"
September 23rd, 2013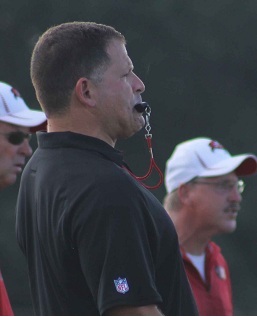 Joe was a big $10,000 Pyramid fan when he was a kid. And for those familiar with the game show, the above quote would fall under the category of Things An NFL Head Coach Shouldn't Say.
Unfortunately, Greg Schiano uttered just those words tonight to TJ Rives, host of Total Access on WDAE-AM 620.
Joe nearly had a seizure.
No matter the context, the words "you can't load the entire roster in a two-year period" just can't be spoken, especially when your 0-3 team is stocked with eight Pro Bowl players 30 years old and younger, plus emerging stars and/or first-round talents like Lavonte David, Mark Barron, Mike Williams and Josh Freeman, and your team is sitting on a pile of salary cap room.
It sounds like making excuses.
Does Schiano really believe the Bucs don't have enough talent? A few days ago he said the Bucs had all the "components" to win now. Surely he knows his predecessor won 10 games in his second season with the same quarterback, and a lot less talent and a record number of rookies.
The Bucs had the ninth-ranked offense last season and added two legitimate superstars to the defense in the offseason. The roster is loaded in many areas. And in other areas rockstar general manager Mark Dominik and Schiano decided they'd rather sit on salary cap room than, using Schiano's words, "load the entire roster."
Joe hopes this was a just a slip of the tongue by Schiano, but sadly Joe suspects Schiano really believes what he said.
In the win-now NFL, coaches like Schiano don't get a third year to "load the entire roster" while their team is getting worse. Owners typically prefer to let a new commander handle those duties.