Yesterday, Today And Tomorrow
September 16th, 2013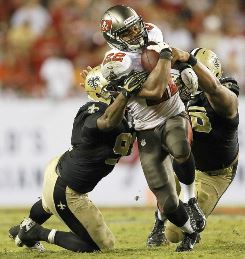 This Monday column is sort of a morning stream of consciousness about the game yesterday, what Joe will write today, and what to look for in the future, along with random non-Bucs thoughts, as well.
Adjusting: The Bucs like to brag they are a physical team and this will not change. Good. Just be smart.
There simply is no way penalties are a good thing. Yet there are some otherwise sober Bucs fans who want the Bucs defense to rack up penalty after penalty after penalty. Why?
Bucs fans love hard hitting. Who the hell doesn't? The thing is, you can't go high anymore on an offensive player. Bucs fans don't want to hear this because they don't like the rule. Neither does Joe, but Joe is not dumb enough to want the Bucs to get penalties.
The game has changed. It isn't going back to what it was. No amount of kvetching will change this because the people who are upset are not on the NFL competition committee.
It's football in the 21st Century. Like we saw with Lavonte David and Dashon Goldson in Week One, if you open the door for an official to think about throwing a flag, then he probably will. The key is, don't give refs the opportunity.
Darrelle Revis admitted last night the Bucs must and can adjust, yet still be physical. Goldson and Mark Barron seem defiant but at some point if they rack up enough penalties, then they could get suspended. Just what good would that do?
Not a damned thing.
Will he stay or will he go?: Look, Joe thinks the best chance, albeit slim after yesterday's loss, of making the playoffs is with Josh Freeman at quarterback. But Joe has doubts about Freeman's immediate future with the club.
Freeman knew all summer that eyes would be on him as he entered the final year of his contract. So far he has crapped the bed. Sure, Freeman has been inconsistent yet clutch, putting the Bucs in position to win on their final possession the past two weeks.
But those opportunities came only been because the Bucs defense has played lights out. If the Bucs were just playing mediocre, then Freeman's three-quarter siesta yesterday, and his inconsistency last week, would have cost the team greatly and he wouldn't have had a chance to put the Bucs in a position to win the game at the end.
Joe is starting to fear, now that the Bucs are 0-2, Freeman's days are numbered, barring a steady turnaround and a playoff run. It sure seems as if this team will be quarterback shopping come February. The Bucs are built to win now; not when Mike Glennon is ready in two or three years.
Doug Martin: Think he isn't one of the Bucs' best players? Dude ran for 144 mostly=hard-earned yards. Can't blame the loss on him.
If not for Martin's hard running, it is doubtful the Bucs were in that game. What a great weapon to have.
The Bucs would be in a world of hurt without Martin.
Sean Payton: Joe has known him (though not really well) since college. He was a BS'er in college, and he still is today.
Of course, Payton defended Bucs commander Greg Schiano's decision to kick a field goal, rather than the kill shot of a first down. Naturally, the field goal was missed. Why wouldn't Payton defend Schiano? As many of Joe's readers pointed out, Payton's better off with an unproven coach still in the division.
That may be true, but when is the last time you read or heard an NFL coach mock the moves of another after a game? Coaching is a fraternity and they rarely mock each other, especially in public.
Nausea: How are you feeling this morning? The last two weeks, watching the Bucs kick themselves in the nads in the final minute of each game is frustrating beyond belief. Right now, we are looking at the potential end of the Josh Freeman era with the team on the cusp of losing its first three games and for the 12th straight season, coming up empty in a quest to win a playoff game.
The Bucs easily could be 2-0, atop the NFC South in possession of all tiebreakers. Now, Bucs fans are beginning to wonder if they should start researching next spring's draft, and it isn't even October yet.
How horrible do you feel this morning with the ugly reminder that few teams rally from 0-2 to make the playoffs? Joe is about speechless, and is borderline sick.
Adrian Clayborn came to play: Bucs defensive end Adrian Clayborn was literally all over the field last night, mostly playing right defensive end, some left defensive end, and occasionally outside linebacker in an odd formation. Hey, Clayborn even broke up a pass in coverage in the left flat. Yeah.
But his day will be remembered for his personal foul for going high on Saints quarterback Drew Brees, negating a sack/fumble. As Joe has pointed out in today's NFL, if you go high to hit a player, you are begging for a flag.
That's one reason why Joe wasn"t outraged over the call. Joe is conditioned to expect flags on hits to the quarterback. Happened last week to Lavonte David and it will likely happen this coming weekend in New England.
You know what, though? On the same drive Clayborn got flagged, and the Bucs received other penalties for unnecessary roughness? It didn't cost the Bucs one point. The defense eventually had a beautiful goal line stand and got off the field.
That won't happen very often.
Marked team?: Dashon Goldson, after the game, didn't disagree when asked if he thought the Bucs were a team targeted by officials. Joe can understand why he feels this way, but it just isn't right.
Believe it or not, if officials screw up, there are consequences with the league. They can either be drummed out of the league or be demoted and get crappy assignments.
No, if anything, the NFL is targeting players who won't adjust to the new rules. And if Goldson and others are indignant about the new NFL and continue to hit high, fans better get used to more flags.
Joe has to believe one of the, oh, 87 members of the Collage of Coaches that Schiano employs can teach these guys where to aim on a ball-carrier.
Bad odds: How many teams make the playoffs after starting the season 0-2? Try 12 percent. How disgusting do you feel now? Hell, it's still the middle of September and the season feels lost already.
Trust, belief and accountability: Just who is accountable here on this team? This moniker is something Schiano wears on his sleeve. Who does he hold accountable for not knowing how to tackle? Who does he hold accountable for wide receivers, some who are paid handsomely, that cannot catch the ball? Forget Kevin Ogletree, what about Vincent Jackson? Is it truly Freeman Schiano doesn't trust, or is it Jackson, who struggled yesterday hanging onto the football?
By the numbers: Joe knows Bucs fans, not all, but quite a few, throw their morning bowl of cereal across the kitchen when Joe brings up the fact that Freeman is now a rotten 6-16 against teams with a winning record, a ghastly 4-12 in his last 16 road games, and is a frightening 5-12 in the month of December for his career, the month when a franchise quarterback should thrive.
Well, it's time to spread the numbers around a little, courtesy of eye-RAH! Kaufman of the Tampa Tribune. Since Bucs commander Greg Schiano took over last year, he is 0-5 in games decided by a field goal or less. 0-5!
So unless an opponent needs a touchdown to win late in the game (at least), the Bucs are doomed in the New Schiano Order. Talk about playing scared to win!
Eating pineapple: Last year, Joe thought middle linebacker Mason Foster would be eating pineapple, playing in the Pro Bowl, until he faded down the stretch. Yesterday, Foster had one of the best defensive plays in recent memory with an 85-yard pick-six, looking like James Harrison during his Immaculate Interception for the Steelers in the Super Bowl a few years ago, played on the very same soil.
Joe will have more on this later today, but Foster, being the cool guy he is, credited his teammates for making the play, i.e. blocking.
Please come back, Carl: The Bucs need Carl Nicks now. If the Bucs have any prayer of making the playoffs, then Nicks must return in a hurry.
Yeah, Joe knows the guy just recovered from MRSA in his foot, and he still has that nasty toe, but Joe is nearly ready for Nicks to be shelved for the season if the Bucs lose at New England. Why get beat up and maybe lost for good if the Bucs are out of it? Better to just sit out a season and come back next year fresh and healthy.
Yeah, Joe just typed that.
Strong defense: The way the Bucs are playing on defense, it almost seems like a return to the good old days when the Bucs had zero offense and all defense. You know, when Trent Dilfer was quarterback?
Yesterday's game looked like the NFC championship game in 1999, when the Bucs played one of its best defensive games in franchise history against an All-World quarterback, only to have its offense shat the bed.
Just how can the offensive players, aside from Doug Martin, look their defensive teammates in the face this morning when the Bucs arrive for meetings at One Buc Palace?
Around the NFL
New England: Joe wants to get excited because the Patriots, the Bucs' next opponent, look mortal in their first two games. But here is what scares Joe: Bill Belicheat has a week and a half to prepare for the Bucs.
That is not something that gives Joe any sense of confidence the offense will magically appear next week.
Atlanta: Doesn't seem like the Dixie Chicks are playing all that well, either? They lost a close game to the Saints and didn't exactly set the world on fire yesterday. It is starting to look like the NFC South is wide open, and the Bucs have already shot themselves in the foot. Unreal.
Baltimore: Man, the Crows need receivers. Guessing Ozzie Newsome is kicking himself for giving Anquan Boldin away for a sixth-round pick.
Buffalo: Either EJ Manuel is the real deal or the Stinking Panthers are a terrible team. Joe's going to guess the latter. The Ron Rivera Watch is in full bloom.
Chicago: Bratty Jay Cutler and the Bears are playing some good ball. Marc Trestman sure inherited a decent team. NFC Central is shaping up to be a good playoff race already.
Green Bay: They waxed the Redskins yesterday and Aaron Rodgers just may be the best quarterback in the NFL. The Redskins are also 0-2 and given how cray Redskins fans are, Mike Shanahan will need armed guards to walk the streets in the district.
Houston: Barring injuries, it seems they are playoff bound. Sometimes, luck is better than skill, as the Texans needed overtime to beat the woeful Titans. Last Joe checked, Texans quarterback Matt Schaub, who threw for 298 yards, was a third round draft pick.
Miami: Big win for the Fish on the road in Indiana. Gee, it sure doesn't seem like Dolphins quarterback Ryan Tannehill is needing four seasons to master the NFL.
Kansas City: The Chiefs squeaked out a win over the Cowboys, but was there a better coaching hire in the offseason than Andy Reid? Mock Scott Pioli if you will for being a micromanager that drove his front office insane, but the man stocked that team with talent.
San Diego: Wait a minute. The Chargers and goofy Philip Rivers beat the Eagles? How? Joe thought this Chip Kelly was the next VInce Lombardi! Joe thought Kelly had reinvented football. He cannot lose. This couldn't have happened. No!
Arizona: Carson Palmer comes through and beats the Lions. How much longer are the Lions going to put up with Jim Schwartz? Talk about underachieving. With the addition of Carson Palmer by the Cardinals in the offseason, Joe guesses it proves you can find a productive veteran quarterback rather than drafting one.
Denver: Peyton Manning is a freaking machine. But is this season just another run of the mill Manning year? He may be the greatest regular season quarterback the game has every seen. But when January rolls around, he only wishes he was half the quarterback Joe Flacco is.
Oakland: Yes, the Raiders beat the Jags. Whoop-tee-do. Is there a more miserable franchise in the NFL than Jacksonville?
Seattle: They crushed the 49ers last night. And they found their franchise quarterback in the third round. And he didn't need four-plus seasons to figure out the NFL. Imagine.
Non-football thoughts
1. The Rays seemed to have plugged the ugly leak in their boat and are now in a fight for the wild card. The Rays, led by Merlot Joe, were on the cusp of a monumental choke job. They may still choke but it seems the worst of the collapse is over.
2. Cardinals TV broadcaster and Twitter antagonist Dan McLaughlin Twittered how the Cardinals pitching is set for years and years with its young arms. That may be so, but let's worry about 2013 first, huh?
3. The Lightning opened camp this week. Yeah, the NHL is back already. Isn't it interesting that the NHL, which for reasons unknown does not translate to TV at all, has zero issue with attendance at the Ice Palace? But the NFL, a sport made for TV, and baseball, which is a decent TV sport, has trouble drawing flies to games in Tampa Bay?
You do the math.
4. It irks Joe that you get ambushed by airlines when checking in with baggage fees.
5. Saturday was the first time this year Joe got to veg and watch college football from noon to the wee hours of the next morning. Man, there is nothing better than to sit in the Laz-E-Boy and watch college football literally all day. What a country! And did Wisconsin get hosed or what at Arizona State? Man!
6. Joe loves Johnny Football. Dude is so much fun to watch, and oh, yeah, is one helluva quarterback. If Texas A&M had any kind of defense, Johnny Football would have throttled Nick Saban for the second straight year. No quarterback has burned Saban like Johnny Football has while Saban has been at Bama.
Joe has no idea if Johnny Football will be an NFL quarterback but as a college thrower/scrambler, its been a long time since Joe watched such a fun and exciting player. Maybe not since Michael Vick played for Virginia Tech.
7. Best quarterback in college football? Teddy Bridgewater, no question. Johnny Football is right behind him. Is it too soon to put Famous Jameis in this list at No. 3? Wonder if Chip Kelly will try to draft Johnny Football?
8. Once again, Joe pleads, stay out of Syria. America has no business in that mess. Watch gas prices skyrocket once the first American bomb lands in that hellhole.
9. Back to travel: How lucky are we in the Tampa Bay area to have such a wonderful airport at TIA? It may be one of the best, most convenient in the country.
10. Last New York story: Joe forgot to include this element in his recounting of his trip to the Big Apple.
When Joe arrived at Newark airport, he took two trains to Hackensack, the nearest station to his hotel. Upon waiting for his last train at the Secaucus Juncton, Joe noticed a guy in his mid-20s who Joe thought was talking on a Bluetooth.
The dude would ramble about something, be quiet, and begin rambling again seconds later. It took Joe a bit to figure out he was talking to no one in particular and was not on a cell phone. This guy seemed agitated and was pacing wildly. It sounded like he got fired as once in a while he would mumble something about losing his job.
Periodically, he would start to bark out and recite Abraham Lincoln's Gettysburg Address for no apparent reason.
At one point, a professional-looking, twentysomething chick smiled at Joe as she too was amused with this guy's antics. She told Joe that she also appreciated this guy's sense of history.
Ah, Jersey.
11. Some Bucs fan had a lousy tailgate experience yesterday. Driving to the Stadium on Dale Mabry Highway yesterday from Hernando County on the Suncoast Parkway, Joe noticed, just a mile or two inside the Hillsborough County line, that there was a gas grill in the median near the southbound lanes, standing upright!
Joe is going to guess a tailgater lost his grill enroute to the stadium. What blow that must have been when he/she got to the parking lot. Guess they had to eat cold hot dogs.