Time To Learn "Revis Rules"
September 4th, 2013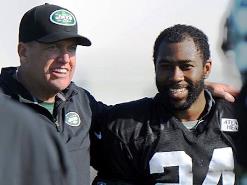 Jets coach Capt. Lou Albano spoke to the Bucs pen and mic club this morning and, of course, the subject of Bucs cornerback Darrelle Revis came up.
Few coaches in the NFL know Revis better than Albano ,who was his head coach with the Jets. Albano noted that Bucs foes will soon learn "Revis Rules." In particular, Albano spoke about Revis Rule No. 1:
"You better not throw it from the far hash marks to the outside numbers or he will pick it," Albano said. "That's one of them. Bucs opponents will learn that about him. He doesn't let you catch the ball in the locker room. He's one of those rare guys."
Now, Albano finds himself in a weird position; he has to figure out how not to let Revis beat you.
"How do you attack him? It's about how you defend him. You have to look at him different than any other corner. We had Revis Rules you don't break. He is rare. Guy like him comes around once every 15-20 years, if that."