Penn Just Trying To Be A Leader
September 10th, 2013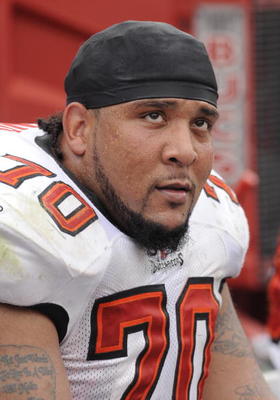 "This Joe" just got back from New York and Sopranosland and he will have a non-football report of his eventful time in the Big Apple and Garden State.
Sunday and Monday, Joe was inundated with questions about an alleged shouting match Bucs left tackle Donald Penn had on the sidelines during the ugly loss Sunday to the Jets. This is why Joe loves his readers (and why many believe the TV at-home experience is better than the in-stadium experience), who tipped Joe off to this incident.
Joe did not see it, as he was actually watching the game from the press area at the New Jersey Swamplands. But Joe asked Penn about this. Not to worry, Penn said, he was just trying to fire up his teammates in a critical time of the game.
"I was telling them if we get one more opportunity, we better make the most of it," Penn said. "Put the rest of the game behind us and go fresh from there. I'm an angry vet. I consider myself a leader. So I was out there trying to lead."
Penn had told the Buccaneers Radio network about the same time he spoke with Joe that the loss "devastated" him.