Offensive Implosion
September 24th, 2013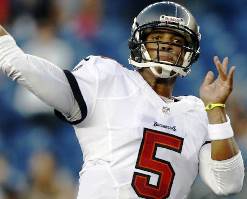 For Joe, watching the Bucs offense is akin to swimming up stream. It's a struggle.
This was on display Sunday when the Bucs tanked against the Patriots.
The Bucs moved the ball OK, until they started to smell the end zone, and ka-POW! Implosion.
The stat geeks at ProFootballFocus.com noticed the same thing and typed this nugget up.
Offensive Inconsistency

The three points on the scoreboard might lead you to believe it was a disastrous performance for Freeman (+0.6), but it wasn't the worst we've seen from him, and there were in fact some positives. He threw a beautiful deep route to Mike Williams on his first pass of the game, but of course followed it up with an overthrow just three plays later. After Tampa Bay's first drive ended in a missed field goal, their second drive was going well until Freeman forced a throw into the end zone that was nearly picked off by free safety Devin McCourty. He bounced back on the very next pass, however, to drop a corner route where only tight end Timothy Wright could catch it, but Wright was unable to haul it in and the Bucs settled for yet another field goal attempt, this time with the 3 points tacked on. Those sequences represent the day in a nutshell for the Bucs, as Freeman and his teammates worked to undo their good with just enough bad to keep them out of the end zone.
Ah, yes. The drops. As if no other NFL quarterback has to deal with receivers dropping passes. If you are bored, look at how many receivers Peyton Manning and Tom Brady have that are putting the ball on the ground. Don't hear too many folks crying for them, do you?
Only with Josh Freeman does it seem that his 10 offensive teammates have to play perfect ball for the quarterback to have a solid day.
To be honest, Joe will take the Freeman of Week One and Week Two, who didn't have a good game at all against the Jets or Saints, but when his team needed him the most, he put the Bucs in position to win the game with solid drives in the final minutes.
Give Joe clutch over numbers any day.