Listen To The Bucs
September 8th, 2013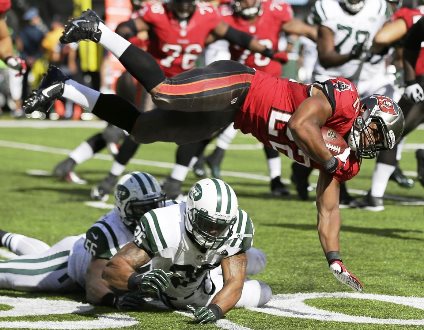 Yes, it was an ugly, brutal loss for the Bucs. A stinging loss. But Joe's good friends at WDAE-AM 620 and the Buccaneers Radio Network have all sorts of audio from the primary players in today's game, as well as Bucs coach Greg Schiano.
Included in the audio clips are wide receiver Mike Williams, linebacker Mason Foster, safety Mark Barron, cornerback Leonard Johnson, linebacker Lavonte David, defensive tackle Gerald McCoy, safety Dashon Goldson, linebacker Dekoda Watson, offensive tackle Donald Penn and quarterback Josh Freeman.
In addition, there are press conferences from Freeman and from Schiano, as well as Schiano's one-on-one interview with the Buccaneers Radio Network.
All audio courtesy of Joe's trusty recorder, WDAE-AM 620, and the Buccaneers Radio Network.