Jeff Demps Just Trying To Fit In
September 15th, 2013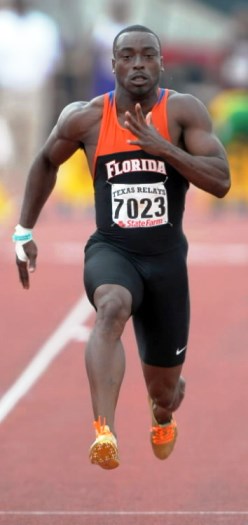 Joe has no idea if track star and part-time football player Jeff Demps might be activated for the Bucs today when they face the Saints at 4 p.m. After talking with Demps this week, the former Gators star is doing whatever Bucs commander Greg Schiano asks him to do.
"It's a lot of work," Demps said of playing for the Bucs and getting in football shape. "I have a long way to go. It is exciting but at the same time it is draining. I am enjoying."
Demps confessed it's been so long since he played football (roughly a year) that he's not even used to running with pads on. Yet.
"I know the body is going to be sore," Demps said. "The best thing for me is to maintain my treatment. Take care of my legs."
Demps admitted he doesn't have the luxury of six weeks of training camp like most of his new teammates had.
"Tight window," Demps said. "I just have to get my head in the playbook. I will do every thing I can to get back on the field. I'm not going to give a time limit."
Demps admitted kick (punt?) returns are not the only thing he is working on. He has taken snaps at running back, albeit on the scout team.
"I am everywhere right now," Demps said.
Now Joe wouldn't mind seeing Demps, who was a running back with the Gators, take some snaps there. With his speed, all he needs is a crease block, and away we go.
While Joe wishes Demps the best, Joe has to wonder if he will have an impact. Schiano gushed in one of his press conferences earlier last week about how fast Demps is. But if the Bucs are waiting for a guy who hasn't played football in a year to make an impact, a catalyst, a spark, then the team likely has bigger issues to address.