"Impossible To Go Back"
September 28th, 2013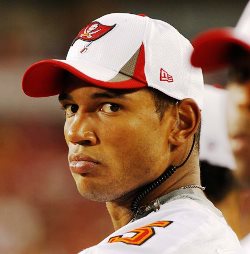 Let Joe offer a riddle: Say Bucs quarterback Mike Glennon gets hurt because he is such a stationary target. What then? What does Schiano do when the Bucs face the Eagles after the bye?
Yeah, it looks like the immortal Dan Orlovsky is the answer, as expected thanks to Bucs commander Greg Schiano's non-denial yesterday that Bucs franchise quarterback Josh Freeman is the No. 3 quarterback. Unfortunately, Orlovsky is beyond abysmal.
Former Super Bowl quarterback Rich Gannon believes the Bucs cannot return to Freeman. So he told his partner of "The Blitz," Bruce Murray, heard exclusively on SiriusXM NFL Radio.
"I was a little surprised [Freeman's benching] happened so soon," Gannon said. "It sounds like they have pushed the panic button. You look at how poorly he has played you get the sense he is holding back the rest of the offense. I think they are looking for a spark. Problem is when you make this change so soon, it is almost impossible to go back."
So what if Glennon is hurt and Orlovsky is atrocious? What then?
It sure seems as if, by going against the team's (and Schiano's) direct orders not to go to BSPN, that Freeman has burned whatever goodwill may be left between himself and Schiano.
It sure smells like Freeman will never take another snap with the Bucs.