Greg Schiano On Josh Freeman's Future
September 29th, 2013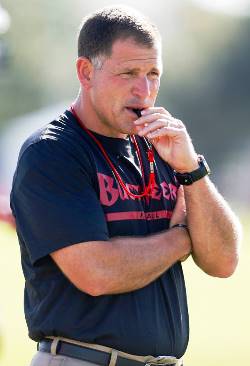 Yes, Josh Freeman had to watch the ugly loss to the Desert Rats from a suite (before he bolted from the stadium as if his house was on fire). He was ordered, per Jay Glazer of Fox Sports, to stay off the sideline.
Bucs commander Greg Schiano claims that is inaccurate, that Freeman and Schiano mutually agreed for him to stay off the sidelines due to the circus of the past week, part of which was reported by Ian Rapoport of NFL Network. He claimed Freeman missed "more than one" team function/meeting this week.
As for Freeman's future with the team in the immediate weeks after the bye, specifically if he will be active in games following the bye, here is what Schiano had to say:
"I have no idea. We'll see. We'll take it game-by-game just like we do all the other inactives."
Again, if there was a chance Freeman would be active, Joe is confident Schiano would have said, "Yes." He did not.
If anyone doesn't believe Freeman has taken his final snap from center as a Bucs quarterback, Joe has swampland to sell you in Arizona.