Geno Smith Irks Darrelle Revis
September 4th, 2013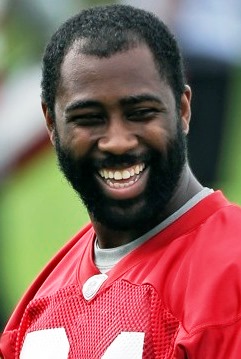 Bucs cornerback Darrelle Revis, scheduled to make his first start for the Pewter Pirates Sunday against the Jets at the New Jersey Swamplands, seemed puzzled if not irked by Jets rookie starting cornerback Geno Smith.
It seems Smith had recently mentioned to the New York Daily News that he spent the better part of the past two weeks studying film of the Bucs but has yet to watch one clip of Revis.
When asked for a reaction, Revis seemed dazed. Rubbing his non-Grady Wilson beard and pausing in thought, Revis said, "I don't know why he wouldn't watch" tape of [me]. "I'm going to be there. I'm going to be on the other side" of the ball.
"I know I've watched tape of him."
Revis has been much like an assistant secondary coach this week, helping his teammates prepare for the Jets.
"I practiced against those guys every day," Revis said, as he gave an improptu scouting report on some of the Jets receivers. Revis admitted he has been helping Leonard Johnson, Dashon Goldson, Johnthan Banks and Mark Barron with insider information on how to defend Jets receivers.
Revis even noted he has spent time with Bucs offensive coordinator Mike Sullivan as the second-year Bucs coach picked Revis' brain for Jets intel.