Freeman Responds To Photogate
September 11th, 2013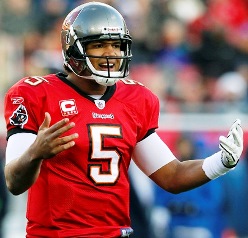 Yes, as Joe learned previously, Bucs franchise quarterback Josh Freeman missed the team meeting recently for the official team photo. Team officials have confirmed the absence was unexcused.
Per the Tampa Tribune duo of eye-RAH! Kaufman and Woody Cummings, Freeman responded to the incident with a rather cryptic if not haughty exchange.
Multiple sources with knowledge of the situation confirmed that Freeman was late and did not participate in the annual team photo, which was held a few days before Tampa Bay players voted for team captains.

Freeman was not selected, despite having been a team captain since 2010.

When asked to comment on his absence from the team photo, Freeman responded with a text message to the Tribune: "You know I can't do Buc non-sanctioned interviews.''
On face value, this is not good. An official team photo is for the franchise's annals. For a former captain and franchise quarterback to not show up for the photo, at best that is inconsiderate and at worst, irresponsible.
But there seems to be a pattern here and it troubles Joe. Remember when Freeman was late to his own football camp and Vincent Jackson had to pinch hit for him? Freeman cited car trouble, yet never called his father for a ride (who was at the camp) nor called a cab, nor a car service, nor Enterprise Rental, which will pick you up. It's not like Freeman cannot afford a $50/day fee for a compact rig.
Joe is going to tack on this last little nugget and let Bucs fans mull it over. The massive communication issues that happened Sunday on the first drive of the season? Why was Freeman so rattled when roughly the first 15 plays are scripted? Or, why, like most teams, didn't the Bucs coaching staff just let the quarterback take over play-calling duties until the communication issues were solved on the fly?
It's starting to smell as if the Bucs coaching staff doesn't trust Freeman.