Earnest Graham Foresees Freeman Benching
September 22nd, 2013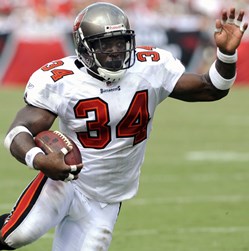 It is only a few hours after the Bucs' ugly loss at New England. Ugly if one is to believe the Bucs were somehow New England's equal.
In the final moments of watching Bucs franchise quarterback Josh Freeman huff puff and struggle to get a first down in the first half, much less a touchdown, one of his former teammates all but suggested it's time for the Bucs to turn the page on their starting quarterback.
And that would be all-around good guy Earnest Graham. The former Bucs all-everything kind of running back felt the frustration of many Bucs fans and Twittered the end is near for the Josh Freeman Era in Tampa Bay.
@EarnestGraham: Josh surely has been a good player at times, and still can be but I don't know how he starts after bye week, just knowing how this biz is.
Graham clarified his statements to say he likes Freeman but the NFL is a win-now league and Freeman's win-loss record clearly shows a quarterback who is circling the drain.
It doesn't do much for a quarterback's job security when he is 4-13 in his last 17 road starts, which is embarrassing, and is currently the worst quarterback in the league in completion percentage.
Joe, however, is convinced that Freeman won't be benched. The season is over as far as playoffs. That's done. Period. It's all about the draft position and people's jobs right now. Schiano certainly must be feeling the heat, at least a little; he is not a naive man.
Today, with the Bucs clearly out of the game, Schiano chose to stick with Freeman even though he could have gotten Mike Glennon valuable snaps. Schiano later said replacing Freeman never crossed his mind.
That tells Joe Schiano will ride Freeman to the bitter end of the 2013 season.