Davin Joseph Still Mending
September 28th, 2013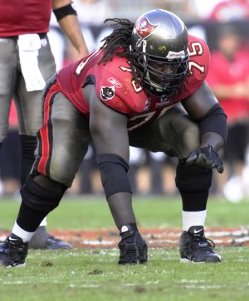 Supposedly, a strength of the Bucs is the offensive line. That hasn't been the case. Had the Bucs had better blocking in the first game against the Jets, not one Bucs fan would be yelling the empty words "game-planning" or "play-calling" as crutches for why the team lost.
The plays (that franchise quarterback Josh Freeman could hear in his helemt) were just fine. The blocking wasn't.
Part of the trouble is former Pro Bowler is and all around good guy David Joseph isn't quite 100 percent ready after his knee surgery last year, documents Woody Cummings of the Tampa Tribune.
Pro Bowl RG Davin Joseph has been back in the lineup for close to a month after recovering from a 2012 knee injury. While Schiano thinks Joseph has played well, he doesn't think Joseph has regained his Pro Bowl form.

"Is he back to his old self? I don't think so,'' Schiano said. "He just hasn't had enough reps yet. But I do think he's playing at a high level and now the job is just to shine it up.''
Well, here's the thing: The Bucs better get healthy and in football shape pretty damned quick. There is little to no margin for error any longer.
With Mike Glennon now the Bucs quarterback, his speed springs to mind what former Boston pitcher Bill "Spaceman" Lee once said about Detroit slugger Al Kaline. "He's so slow he has pigeon s(p)it on his shoulders."
Glennon is about as stationary of a target as it gets in the NFL. With Doug Martin almost assuredly going to get at least 25 carries tomorrow — and the Cardinals loading the box to stop him —  the offensive line will have to be at its best, or it will be a long, long, long day for Bucs fans and their punter.